Sherlock Holmes, Poirot, Jessica Fletcher.
These have all been big names on the detective move scene; frolicking around with clues and nefarious characters.  For years it feels like we have been missing special Whodunnit film?  A murder mystery caper. Not a thriller – a caper. A mad-capped series of bonkers characters, intriguing detectives, utmost scheming, and some farcical hilarity for good measure.
Luckily Rian Johnson has delivered a highly entertaining movie with Knives Out, bringing back the old-school charm of monologue-obsessed detectives. All the while threading in a modern day analogy for rich white privilege.
Knives Out features a star-studded cast which includes Jamie-Lee Curtis, Don Johnson, Toni Collette, and Chris Evans. They play family members of the prestigious Thrombey family, led by Harlan Thrombey (played by Christopher Plummer.) When Harlan dies from an apparent suicide, his family are shocked. Even more so when Detective Benoit Blanc turns up to declare murder. As the investigation heats up, Marta, Harlan's nurse and close friend, is pulled into the family drama as the case begins to revolves around her…But who is responsible for his death? Who did the crime?
Rian Johnson writes and directs this film with enthusiastic furor. Piecing together this brilliant unwinding story, Johnson delves into classic Whodunnit? movies such as Clue and Murder on the Orient Express. The biggest highlight here is that Johnson never shows his cards too early. Except he does. But they aren't the right cards and he's bluffing and all of a sudden you are a million miles away from where you thought you'd be. Johnson implements moments of silliness – especially with Craig's over the top dialogue – but also keeps you on your toes, trying to figure out who the killer is.
Beyond the comedy and the unraveling plot, Johnson weaves an allegory for rich white America right now. In fact, each member of the Thrombey family could easily be a caricature of Trump's "Great" Nation. The Nazi teenager posting angry memes online, the entitled activist, the social media icon, the spoiled heir; they are all portrayed in damning light here, making it secretly the most Anti-Trump movie of this year.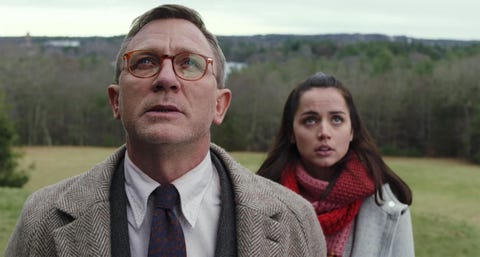 Despite the huge cast that all play a significant role here – Colette as the prancing socialite mother and Chris Evans with his brooding knitwear make good impressions – there are two key players who make this movie a standout. Ana de Amas is the first. As Marta Cabrera, she is the one who has to tackle with the prejudice and imposing family, all while losing a dear friend and having Blanc in pursuit. De Amas is sincere, her opening scenes provoking empathy instantly. She is the conduit for the audience and you care about her enough to follow the weaving path of the story. Even when she is doing unscrupulous activities. De Amas is a tour-de-force.
The second is Daniel Craig. Whenever Craig is given a role with an ounce of comedy, such as Joe Bang in Logan Lucky, the British actor just runs with it. Here as Blanc, he excels. Though his Southern drawl is initially shocking, he melts into it. Runaway soliloquys and brilliantly bizarre metaphors make Blanc a memorable character. Whilst being a smart detective Blanc also accepts his wrongs with funny quips and great presence. Craig is brilliant here, and will make you want to constantly say "I suspect foul play" all over again.
Knives Out, as much as it bounces with excitement, is over-long. At almost two and half hours, it cannot really sustain the excellent level it leaps up to, falling as it gets into the second third. In places, you'll find yourself drifting off. There's also plot devices that don't quite work, such as Marta's inability to tell a lie. Despite the service it does, the act itself mars otherwise genius story-telling. The movie also wastes Lakeith Stanfield who is a secondary police detective with not much to do accept follow Blanc around.
Knives Out is mostly fantastic story-telling and wickedly enjoyable. An ultimate crowd-pleaser, Rian Johnson's made an absolute belter of a caper.
---
Knives Out is out on Digital, DVD and Blu-Ray now!