Once upon a time, in a world beyond our own, there was an article on Film Stories. Prompted by my love for Two Star Fantasy Films, I explored why I was fond of these adventures and why they are still valid in this cinematic landscape. Yet I was not satisfied by this adventure!
Through weekly podcasts and articles, I shall head forth on a quest to explore the magical and the mediocre as we explore The Middling Earth! 
First of all, I am looking at a film I often cite when talking about these types of movies – 2013's Beautiful Creature.
Directed by Richard LaGravenese, Beautiful Creatures is based on a series of books by`Kami Garcia and Margaret Stohl. It revolves around Ethan Waite, a young man living in a deep south fictional town called Gatlin. The town itself is deeply religious so when mysterious events start happening, they are terrified. Especially when it revolves around mysterious new girl Lena Duchannes. Niece of the reclusive Macon Ravenwood, Lena is a witch, or Caster,) who is claimed for either the light side or the dark side on her 16th birthday. Ethan is drawn to her and soon they discover their love is steeped in history and fate. But soon their bond attracts the terrible dark caster Serafine who wishes to draw Lena to the dark side. Can Ethan and Lena's love survive?
The Magic
The initial book that this movie was based on is, indeed, popular but it is also a great foundation for why this movie works as an entertaining fantasy romp. Also written by LaGravenese as well, Beautiful Creatures certainly is embellished with wonderful spells and deep south witches. See, we know they are from the Deep South because of Alden Eldenhereich's imposing narration.
There are some great names here including Emma Thompson, Margo Martindale, Viola Davis, and Jeremy Irons. They add a bit of gravitas to the movie, but they are outflanked by the young couple at the centre. Ethan and Lena are played by Eldenhereich and Alice Englert respectively, and the reason Beautiful Creatures is so palpable as a fantasy flick is because the centric pairing work. They have oodles of chemistry together. What's more is that they act like a teenage couple. They fight, they break-up, and they are clumsy. This realism grounds the movie. There is a heart here and the emotional core separates it from just "Oh they love each other and there are bad magical people who want to kill them." It feels like a matured outing, more so than just a copy.
There are some great effects too with the spells that zoom across the screen. As the story uncovers, it is enhanced with the war and magic that immerses us further in this world.  The action is fun and the stakes are high, gripping you into the story.
Plus, the outfits at the end of the movie are brilliant. Almost like a Gothic version of the Capitol outfits in The Hunger Games. 
The Madness

Film genre fatigue is certainly an ailment that hits critics and audiences alike. Whether it affects a production to the extent that film producers phone in a silly fantasy garb or where consumers are sick of being peddled the same movie repeatedly, we are tired of seeing the same thing over and over again.
I feel this is the case with Beautiful Creatures. Thanks to the successes of movies such as Twilight, The Hunger Games, and even Harry Potter, Young Adult Adaptations hit a peak. This started to dwindle after studios released movie after movie, exhausting us with Mortal Instruments, Divergent, The Vampire's Assistant, and more. Unfortunately, Beautiful Creatures didn't seem come out of the gate (or Gatlin,) with enough subversion to offer something different to audiences. In spite of big name stars such as Emma Thompson and Jeremy Irons, there wasn't enough of a draw and, sadly, Beautiful Creatures suffered both critically and commercially meaning subsequent sequels (there are four books) were shelved.
Still, this cannot solely be the fault of the genre. As mentioned, Beautiful Creatures hits over familiar beats. Plus, there is a section in the middle that confusingly slows the action down. It's necessary to the plot but a whole drift into a research montage slows this bad-boy down. It's a shame because up until then we are fully gripped by this new magical world.

Is it a 2 Star Fantasy Film?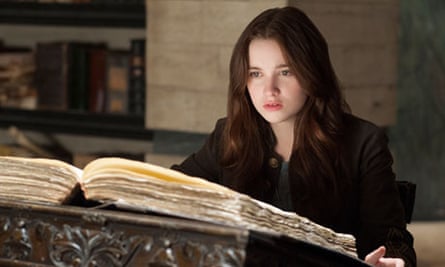 Beautiful Creatures actually sits comfortably as a three-star fantasy romp. If I were to rate it personally, I'd give it another star because it's centric pairing who feel more like a real teenage couple then sparkling vampires and their pale-faced beaus.
Heck, in my heart, it earns four stars because Emma Thompson and Emmy Rossum equal chance to play hammy magical villains.

Beautiful Creatures has a really heart-filled and mystical spirit that make it enjoyable and fun
---
What do you think of Beautiful Creatures
Let us know below!