What elevates a television show into greatness?
What takes a lowly series and pushes it to legendary status?
Perhaps it comes from the Catherine O'Hara's misaligned pronunciations in her epic monologues. Maybe it is the shocked concerned expressions of Eugene Levy. Legendary status could be forged in Dan Levy's overt reactions. Greatness could come in Annie Murphy's hand gestures and impeccable delivery of "ew David"
Or maybe it is all these things and more which makes Schitt's Creek one of the best television shows of all time.
Now it's sixth and final season is available on Netflix, it's time to celebrate this incredible show.
Created by father son combo Eugene and Dan Levy, Schitt's Creek revolves around the affluent Rose family – Johnny, Moira, David, and Alexis – who find that their dodgy accountant has run off with all their money. Their only remaining asset is a town called Schitt's Creek – bought for a joke. Having to relocate to a rundown motel, the Rose family have to acclimatise to their new home whilst also trying to make their fortune back. However, can the once prosperous family get used to their new small town-life?
Fish out of water (or fish into creek) storylines are the lifeblood of sitcoms such as Schitt's Creek. The premise here is quite simple and propels the comedy for a good couple of series. These folk who have been born and bred into financial glory are out of touch with their new community and have to navigate their new surroundings.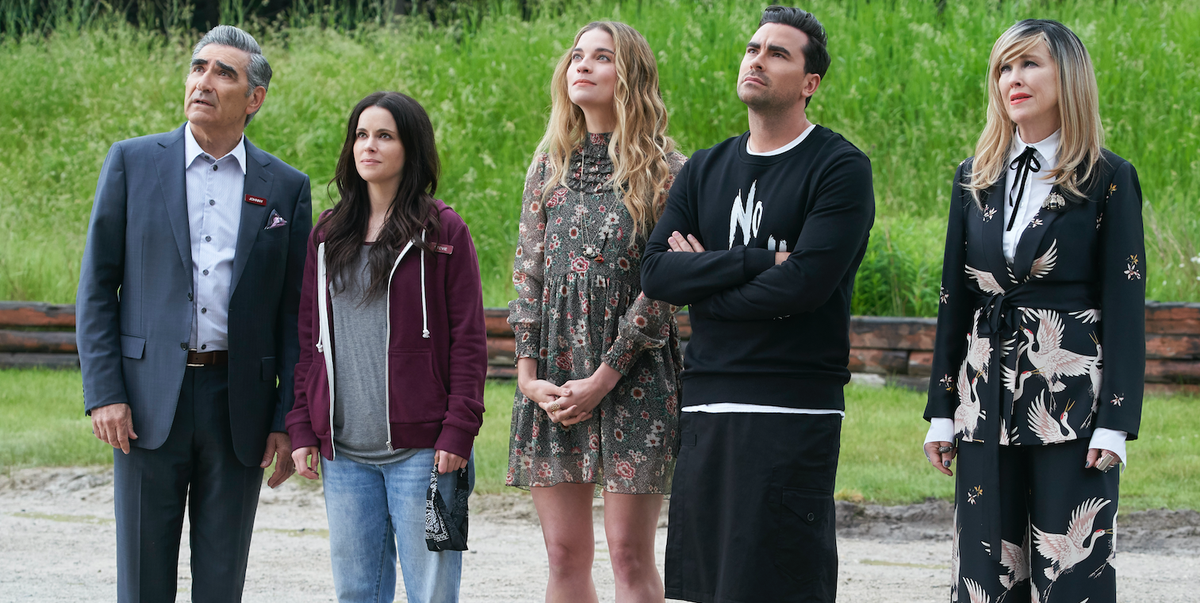 This may sound archetypical but the creators and writers here do well to produce a sitcom that is teaming with originality that goes beyond O'Hara's weirdly accented Moira or David's fashion sense that comes into question every so often. There is a consistent fresh-beat to a series that could have become stale within the first two series.
More so than this, Schitt's Creek has genuine heart and absolute care for these characters. While it may start that the Roses are a selfish, the out of touch family soon grows into this multi-layered sitcom about their lives and loves within Schitt's Creek. The series is about growth and acceptance. The Rose's never completely change, keeping their weirder ways, but they soften, and grow as people, learning to measure their wealth in the people that surround them and support them.
Helped by the town's quirkier characters such as Mayor Roland, his wife Jocelyn, the sardonic Ronnie, and the naïve Twyla, Schitt's Creek is a show that is teaming with hilarity whilst making sure no one becomes a caricature. Standout supporting characters come in Emily Hampshire's blunt but brilliant Stevie who works at the Motel, or Dustin Milligan's doe-eyed, pun-making vet who falls for Alexis. But really, every person has their moment to shine in this witty and generous show.
There is also this glorious air of acceptance, exploring sexualities, gender, and love in a light-hearted way and intelligent way. In fact, David's own pansexuality is explained in a brilliant wine-based metaphor that has been used as a prime example ever since. It is in these crucial moments where you can see the powerful impact Schitt's Creek will have on younger audiences or anyone struggling with their identity. Scenes such as Patrick coming out to this parents is exceptionally beautiful and heart-wrenching.
It's hard to really encapsulate what makes Schitt's Creek such an indelible force of nature in a small article. You could fill pages and pages of special little moments that make it soar into greatness. Quotable moments like Moira's take on the word baby, a whole wall of wigs, and multiple stirring covers of Simply the Best push this into absolute perfection. Similarly, to shows such as Parks and Recreation or The Good Place, Schitt's Creek relies on the writing and the people, instead of underhand insults or over the top situations.
The joy of Schitt's Creek is that it is about the people foremost. Oh, and it is very, very funny.
---
Schitt's Creek is available to watch on Netflix!