Art is interchangeable.  A book can be a film. A film can be a stage show. A stage show can be a TV series. A cult classic could be a musical which is then turned into back into a film. Art and stories have never been contained to a singular form.
What We Do in the Shadows started as a 2014 mockumentary by Taika Waititi and Jermaine Clement. Critically acclaimed, beloved by audiences all over the globe, and really bringing Waititi's Kiwi comedy prowess to the Hollywood stage.
It also spawned televisual sequels: New Zealand's Wellington Paranormal, about police investigating the capital's spooky crimes and FX's What We Do in the Shadows.
Following the same structure of the movie, the mockumentary series follows three housemates – Nandor, Nadja, and Lazlo – who live in an enormous house in Staten Island, New York. They also happen to be blood-sucking vampires. Plus, there is Colin Robinson, an energy vampire, who literally drains the life out of any room – human and vampire alike. Helping them is Guillermo, Nandor's familiar who dreams of being a vampire. Every episode they get into different supernatural shenanigans as they face-off with witches, ghosts, demons, and cursed hats.
Replicating the life force of the original film is no easy feat. The original characters – Viago, Vlad, and Duncan – do not appear and instead we have to assimilate to new vampires. However, the tongue-in-cheek humour, the horror satire, and the hijinks that the three get up to. There are some spectacular episodes that truly harness the What We Do in the Shadows lore and comedy shtick. Tomfoolery highlights include meeting the cameo-ridden vampire council, the bonkers orgy episode, and any time Beanie Feldstein turns up.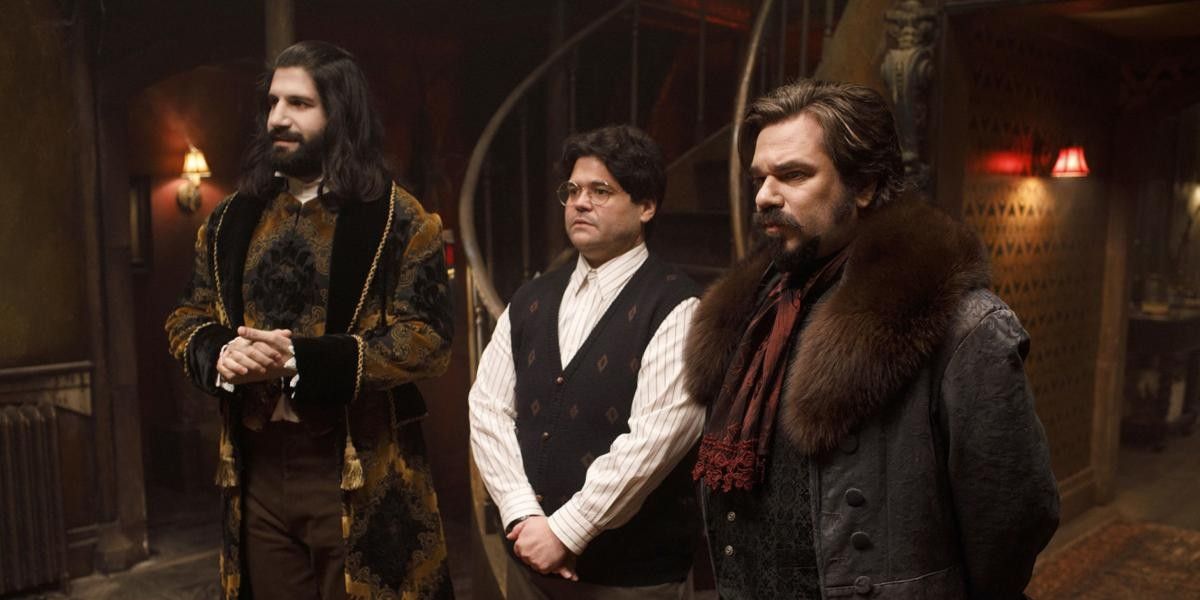 Three British comedy actors helm the show and they are truly remarkable. Nandor is played by Four Lions' Kayvan Novak who plays the eldest vampire Nandor. Perhaps most like Viago in the first film, he is a bit naïve when it comes to the human world. For example, in season 2,, he is bested by an old email chain. Matt Berry plays Lazlo – a Victorian Nobleman who is sarcastic, artistic ,and argues constantly with Nandor. He also has to scream "BAT" every time he wishes to transform. The foil to the pair is Nadja, played by Stath Let Flats' Natasia Demetriou. Angry, frustrated, but also rampantly sexual, Nadja has the best quips and one-liners.
The introduction of Colin Robinson, played impeccably by Mark Proskch, really makes the show special as you get to grips with the dull, beige life of an office worker/energy vampire who drains most people around him with his terribly tedious tales. This adds a fresh beat to the whole series whilst also making your toes curl.
However, stealing most scenes is Harvey Guillén as the familiar Guillermo. Bossed around by the three with ever hopeful dreams about becoming a vampire, Guillermo is the human conduit for the audience. Also, when secrets start to come out about his heritage, there is an added layer of intrigue for his character – which is explored more in Season 2.
The show can never truly master the originality of the film, and certainly some episodes and jokes feel like duds. Yet most of the time it is hilarious. It can take something as simple as a double-take to the camera from an ancient vampire, shame bats, or a surprise appearance from someone famous in order to convert you to the show's dark side.
What We Do in the Shadows is definitely worth the bite!
---
What We Do in the Shadows Seasons 1 & 2 are now available on BBCiPlayer!