Hollywood love is so grand, isn't it? It's long and passionate speeches in the rain. It's running through airports trying to stop that ill-fated flight from absconded with a soulmate. It's big band gestures and super attractive white-teethed people professing their undying love to one another.
It's fake. It's silly. It's not real. It's not Ordinary Love.

The aptly named drama film by directing duo Lisa Barros D'Sa and Glenn Leyburn sees Leslie Manville and Liam Neeson paired together for the first time as Joan and Tom. The opening scene shows how much they fit together despite the huge difference in height. Instantly, this a couple who have been together for a long time, but are still very much in love. They make each other laugh, they care for one another , they still have sex. This is not an embittered middle age couple of resentment and anger. This is a couple filled with care, respect, and ordinary love. That is until Joan is diagnosed with breast cancer, upsetting their world entirely.
Scripted by Owen McCafferty, Ordinary Love is a wrought, funny, and honest film about a couple going through the grief of cancer. The film is solely about this couple who have already lost their daughter and have grown together as people. Quintessentially British, the movie is less about sweeping declarations and more about sturdy strength and two people who simply belong with one another.
As mentioned before, Manville and Neeson simply fit into these roles impeccably. This couple may be written with a tapestry of depth and richness, but it is this acting duo that bring it to glorious life. Manville, who is never less than extraordinary, is impeccable once again as Joan. She balances this dignified woman who quietly pokes at Tom with affection alongside Joan prodded by tests and surgery. Holding a whirlwind emotions that gradually become more prominent, Manville's journey is intense whilst, at the same time, being still, kind, and hushed.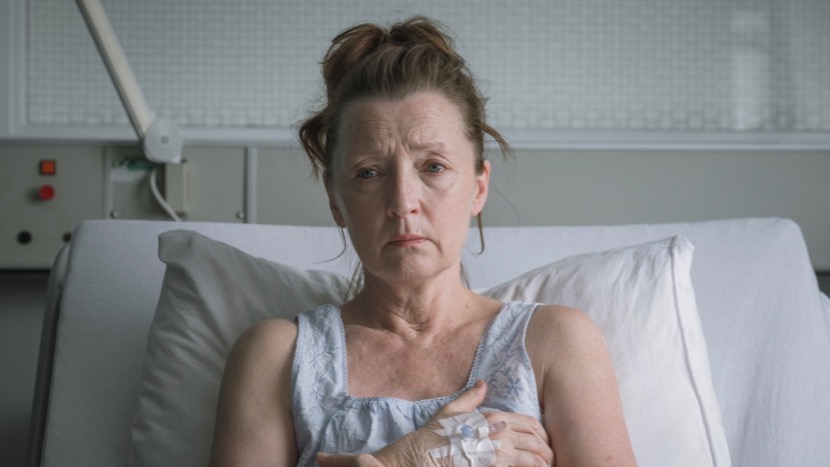 Neeson's Tom is a steadfast man who makes jokes, even at the wrong times, and promises to always be with Joan. This is perhaps Neeson's best work in a long time, that stirs with adoration for this wife though that may be strained at the very worst of times. A silent and impassioned love that makes her stand as tall as he. David Wilmott and Amit Shah are a brilliant supporting couple as the pair of couples share their stories with one another.
D'Sa and Leyburn frame the film with warmth, especially in the home scenes. In fact, when the couple aren't there, they include shots of this looming house that has been kept as a time capsule since the death of their daughter. Becoming another character almost, the house of browns, pinks, and oranges contrasts the whites and blues of the hospital.
This is a love to aim for – joyous, humorous, sex-filled, and happy. There are moments of cheesy emotional heft but Ordinary Love is mostly a sensitive and astute feature. Manville and Neeson are a perfect pairing – as strong and defining as the tree Ordinary Love uses as a cornerstone –  a symbol of the beautiful, never-ending cycle of their lives.
---
Ordinary Love is out on Digital, DVD, and Blu-Ray now.