A lecturer regales a story to Victorian aristocrats in Australia – their mouths agape at the blood shed within the story. He talks about how uncivilised we've become; to uphold an outlaw and a murderer as an iconic legend.
That's the crux of humanity, isn't it? In London, hundred flock the streets of Whitechapel and follow in the footsteps of Jack the Ripper. Netflix has profited off of true crime dramas, and people can name more serial killers then they can Civil Rights Activists.
In Australia, it is no different. Famous bandit Ned Kelly has his face upon pies, drinks, and more. But the crimes in which Kelly had committed comes from a slew of violence against him. Is he, therefore, a hero or is he simply a murderer?
That's what Justin Kurzel's latest film attempts to question.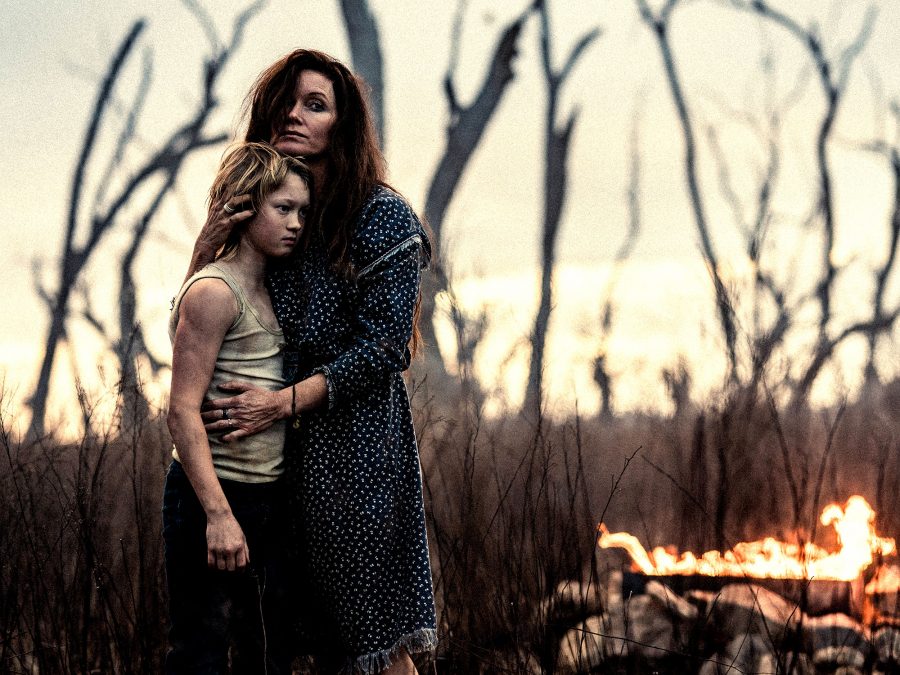 Though largely considered fictional, True History of Kelly Gang is based on a best-selling book by Peter Carey. It revolves around Ned Kelly as he struggles under British rule in colonial Australia. With his family plagued by Sergeant O'Neill, his father dead, Ned is sold to bandit Harry Power, only to be shocked by Harry's murdering ways. When he is forced to shoot O'Neill, he is arrested and sent away. A fighter, Ned comes back to his family only to discover that his brothers are anarchist thieves, his mother is to be wed to an American, and British sergeants still plague his home…Can Ned Kelly rise up to defeat the British rule?
Justin Kurzel examines the usefulness of male bravado when it puffs out its chest and beats it like a gorilla. This is a film filled with men behaving abhorrently yet they never succeed. Through the fabric of dresses and the matriarchal influence of the Kelly's strong-headed mother, Kurzel looks at how Ned Kelly's masculine nature is just an act and one that could lead very much to his downfall.
The film plays out like a cinematic poem. An hour or so of build to an astonishing brutal and beautiful ending may seem like a foolish and boring errand yet Kurzel's risk pays off. In the stunning cinematograpy by Ari Wenger, the low and studied music of Jed Kurzel, and the actions of Kelly, the film paces itself gloriously. Slow and yearning to fast and furious. The tease towards battle shakes the audience to its core. It is enticing exquisite beauty to punk rock finale. It glides like a hawk and sinks its talons into your skin, with imagery haunting long after the credits rolled. The film hums in your bloodstream.

True History of the Kelly Gang's biggest component is George MacKay. The British actor, seen in more meek roles such as the blossoming "Bromley" in Pride or the determined soldier in 1917, truly masters a man forced into a role he never accepted. With his mother (played greatly by Essie Davies) breathes down his neck for him to become a violent defender – a Son of Sieve – Ned attempts to hold himself back. Yet as his world becomes more ferocious, he is forced to face his destiny. MacKay does things here I did not think were in him: Contorting his body, twisting his soul, and practically bleeding to portray Kelly, MacKay is a magnetic tour-de-force. His best sequence is in the tavern during the final scenes; A boy turned madman (or Iron Monitor, if you will,) he is finally unravelled and MacKay is utterly magnetic in this new, naïve insanity.
There are times the movie drags, and other characters feel wasted such as Thomsin MacKenzie's Mary or Earl Cave's younger brother Dan. There is also a want to explore the homoeroticism of some sequences here, feeling as though it holds back aspects of Kelly's relationship with best friend Joe. That being said, True History of Kelly Gang is a rewarding and Gothic watch. Though whether or not you come away thinking Ned Kelly as hero or monster, you'll certain understand how he found himself a criminal.
---
True History of Kelly Gang is out on Digital now.