It's Christmas time which means only one thing – cheesy romantic comedies and festive fun! Exciting. However, for many, many years mainstream releases have been deprived of LGBT festive stories.
Luckily for us, Clea Duvall is here to save the day with a lovingly lesbian movie Happiest Season.
Starring Kristen Stewart and Mackenzie Davies, Happiest Season revolves around the blissful couple Abby and Harper. On a whim, Harper invites Abby to stay with her parents for the holidays. However, Abby soon discovers that Harper has yet to come out to her conservative parents. Soon the pair have to navigate a whole season of mishaps whilst trying to hide their secret.
Though it is drenched in the general ticks of festive films and romantic comedies– the glistening decorations upon the snow, the awkward family jokes, and comedy as the pair sneak around the large house. However, Happiest Season is a layered and nuanced movie which is less like a holiday rom-com and more of a dramedy. It intertwines hilarity with some very real journeys such as Harper hiding her sexuality, stiff Sloane unable to earn back the attentions of her parents after she stopped being a lawyer, and the loveable Jane cast aside due to her personality differences. Plus, there is Abby's "fish out of water" tale as she cannot fit in with this glossy, white, rich, and conservative family. DuVall balances all these stories and packages it in a lovely bow.
The cast are chockablock. With Stewart and Mackenzie leading, there is also Dan Levy, Aubrey Plaza, Alison Brie, Victor Garber, and Mary Steenburgen. Stewart is perfect in her role as Abby, trying to please this new family whilst hiding a part of her identity. She is funny and sweet but also boiling with an undercurrent of sadness and rage at the situation which falls out over the course of the film. Plaza is smooth and cool as ex-girlfriend Riley. Brie plays icy, competitive older sister Sloane, vying for the love of her father.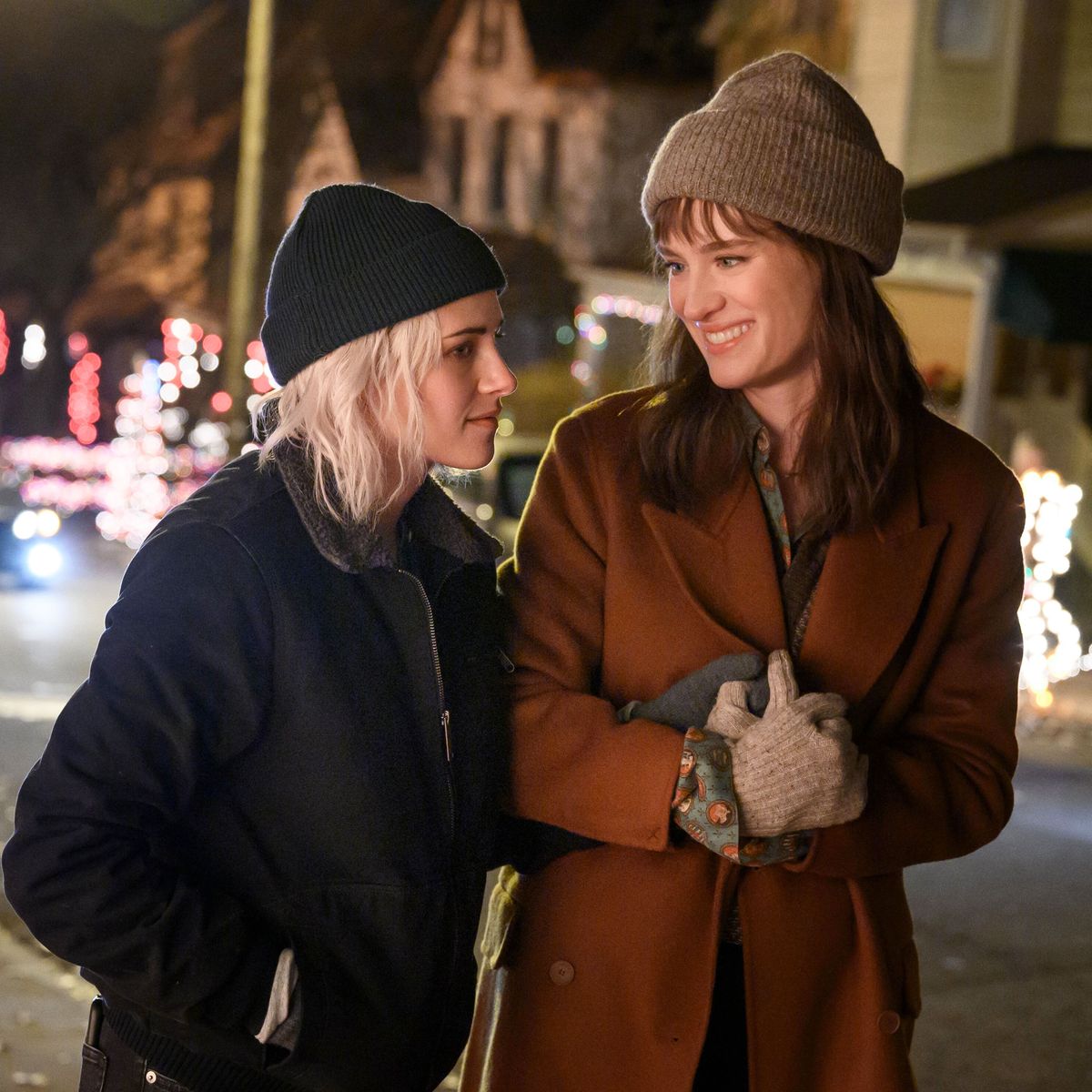 There are two scene-stealers here. The first is Schitt's Creek super-star Dan Levy as Abby's gay best friend – a stereotype, true, but Levy embraces the role with absolute gusto. The second is Mary Holland as the sweet but outcast Jane. If there was a lesson to take-away from Happiest Season is that you've got to be more like Jane – a free spirit who, whilst strange, keeps true to herself and just wants people to be happy. She is lovingly weird but never truly accepted by her own family. Holland plays her with utter empathy and, by the end of the move, you'll just want to give her a hug!
The problem is, as is with most Christmas movies, that all the foibles are conveniently solved for Christmas Day. Throughout Happiest Season both Harper and her siblings are pretty horrible to Abby. There are also clear signs that Harper and her siblings Jane and Sloane have been deprived of love and somewhat emotionally neglected by their parents. Years of that type of angst is just suddenly papered over like poor wrapping on a Christmas gift. There is a lot to unpack and Abby barely gets an apology from a family who have been awful to her throughout (except Jane, because, god bless Jane.) Sloane's children also do something horrendous to Abby and straight after their weak apology, they get to open presents! I just wish it was clear that all the different struggles each daughter goes through thanks to their parents isn't miraculously solved with a Christmas picture.
Whilst I can understand a lot of tense behaviour from Harper due to her lack of confidence or familial support in her coming out journey, the character becomes almost insufferable throughout, especially when Riley reveals exactly why they broke up. Over the course of the movie, you kind of want Abby to drift away from Harper's grasp and wind up with the cool Riley.
Of course, this isn't the case. Weirdly, despite all these foibles, you'll be swept up in the magic of love and Chrismas by the end. There is a certain magic here and whilst it cannot distract from the deep-seated issues this family, and movie, have. It is just nice to see this LGBT storylines take a festive frontline this year.
---
Happiest Season is available to rent on VOD now!