There is something unsettling about the London-set psychological thriller, Cordelia and it isn't the neighbour, Frank (Johnny Flynn) upstairs. The titular protagonist (Antonia Campbell-Hughes, who also co-wrote the script with the film's director, Adrian Shergold) is an actress, who twelve years earlier had an experience on the tube that scarred her for life, after she gave up her seat for a blind man.
Cordelia is now afraid to use London Underground, but does so after cello-toting Frank, who plonks himself down at her table in the Brunswick Centre, Russell Square, invites her to do so. Cordelia makes the silly mistake of trying to climb the 193 steps at Covent Garden station – it's one of London's deepest, there are warnings – and, halfway up, becomes paralysed by fear. This causes Frank to drop his cello, though the spectacle of a cello case sliding down an emergency staircase is oddly pleasurable. Having recovered his case, Frank invites Cordelia to meet him for a drink at Vladimir's in Frith Street at Six O'Clock (don't look for it; it doesn't exist). Cordelia, seen wandering around the back of St. Martin's Lane (nowhere near Frith Street, by the way) miraculously finds it.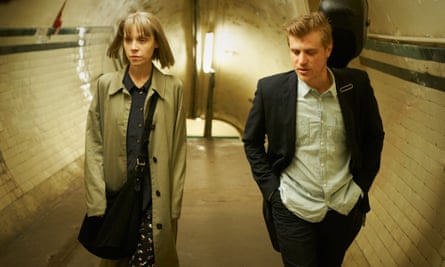 Cordelia is an understudy and feels fragile. She is prone to bad dreams. At the beginning we see her walking down a tube carriage, having given up her seat, and wakes up after her sister, Caroline (also played by Campbell-Hughes) walks in. Caroline lives in a flat on a Peabody Housing Estate, and if you have ever tried to get on the list to rent one, forget it. (You almost have no sympathy with Cordelia from the outset.) As she speaks to her sister, Shergold keeps the camera on Cordelia for longer than you think is necessary, before revealing Caroline by the curtain. Caroline is the sort of sister who drinks white wine out of champagne flutes, which is pretty much a no-no.
Leaving her rehearsal and crossing Hungerford Bridge, Cordelia runs into an actor who knew her before her traumatic event. She rebuffs his attempt to invite her for a drink. Why then does Cordelia follow Frank underground? She claims to like the sound of his cello playing, but it doesn't seem like someone rehearsing, more like a record being played incredibly loud. Cordelia receives telephone calls from someone spying on the flat – though how a stalker would know her number given the demise of directory enquiries is anyone's guess – and then feels especially vulnerable when her sister and her sister's lover, Matt (Joel Fry) go away to Bruges together. The cat dies, and Cordelia has the annoying habit of leaving the window open, exactly what a vulnerable young woman wouldn't do.
So far, we suspect Frank of being the stalker – you can't trust a man who is so casual with his instrument. But then there is a genuinely odd sequence in which Cordelia takes a train to what we think is her parents' house, finds the key under a rock (as you do) and buries her cat in the back garden, next to some other plots – a veritable pet cemetery. (There are more plots in the back garden than there are in this film.) Then there is the odder scene when Frank leaves his cello with Cordelia and disappears from Vladimir's – Cordelia no sooner having sat down with her 'half-decent' house white – and meets her in the street (again near St Martin's Lane) claiming he was trying to avoid someone. In a single-take taxi ride scene, Cordelia, having scrolled through his phone and found pictures of herself and Caroline, confronts Frank, who claims he was 'trying out the camera on his phone'.


There is precious little plausibility in the film, but this is intentional. Cordelia's grip on reality is rather tenuous. There have been plenty of films that have mined urban anxiety – Roman Polanski's Repulsion, starring Catherine Deneuve, is perhaps the most fêted. However, the minimum requirement is for that anxiety to be credible and the sense of dread to be palpable. There is no real tension in Cordelia, just a growing sense of irritation. The judicious use of a letter opener is telegraphed and besides, who has letter openers these days?
The charismatic Flynn sails through the film like a man oblivious to the ludicrous nature of the plot. Then there is Michael Gambon as another neighbour who lets Cordelia into the building when she is locked out. For his one scene, barely two minutes long, Gambon had a dialogue coach. The credit is surprising, since Gambon has played London-types before, notably in The Cook, The Thief, His Wife and Her Lover. Still, you're never too famous for a dialogue coach.
The ending is genuinely awful. It is one of those that is supposed to make you re-evaluate everything you had seen before, only I found myself thinking, 'why did I watch that?' I confess that I wasn't aware of Campbell-Hughes as an actress, but find myself wanting to see her 2013 film, 3096 Days, in which she plays the Austrian kidnap victim, Natascha Kampusch, held captive for eight years (hence the title). This might be a better film to stream than Cordelia.
---
Cordelia is available to stream on Apple TV, iTunes, GooglePlay and Amazon from Monday 30 November 2020