by Billie Melissa
Henry Blake's feature directorial debut is an extension of his 2017 short film of the same title. County Lines is a gritty look behind the curtain at the heart-breaking way in which children are groomed and exploited by the county lines criminal network. The film anchors itself with the shocking statistic that 10,000 children across the UK are involved in similar activities, some as young as 11.
Tyler is our protagonist, a 14-year-old boy and "man of the house" who gets his sister ready for school and cooks her dinner at night while his mum works into the early hours of the morning. Around him, there is iconography of toxic masculinity with posters in school expressing "what type of leader are you going to be" and fights in the classroom as young boys hurl homophobic language at one another. Conrad Khan approaches his role with sensitivity, wrapping Tyler with a full life that translates so perfectly onto screen. His eyes invite us to reflect with him when he remains quiet, and it's so easy to root for him. His world exists in a dark and cold colour palette where he hears things young boys shouldn't and has grown up years before he should.
County Lines stretches beyond its narrative to look at social mobility in the UK, and the vicious cycle of cruelty in which we leave the most vulnerable. Blake's screenplay aims to provide a compassionate lens for the majority of its characters, with a genuine interest in reserving prejudice for the audience instead of telling them how they should feel. He paints his landscape with real nuance, building a place where dreams are stagnant due to circumstance, and the harsh realities of getting by are prominent.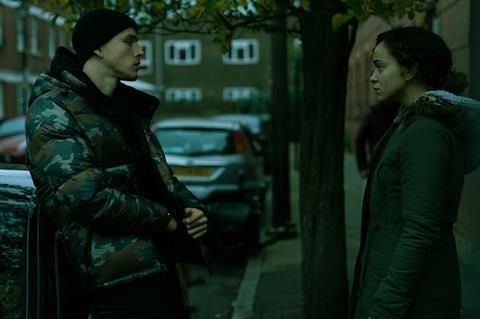 There is no desire to pepper the screen with glamour. County Lines is an unflinching look at reality. Henry Blake delves deep into the world, unafraid to share every violent act in ways that are often distressing to watch. It is fair to say that this film perhaps should warn of some of the imagery, but its 15 BBFC rating perhaps implies all the audience needs to know.
The film essentially plays in two timelines; the moments leading up to Tyler's involvement and six months after that has begun. The time-shift doesn't affect Blake's incredibly focussed screenplay. It is so neat, hitting each beat with ease so that you barely have time to realise how far in you are. By the second timeline, Tyler has evolved into a version of himself that is unrecognisable, adopting the toxic masculinity he once denied and becoming an impression of men he has seen around him. The desperation to keep providing for his family evident in every step he takes until it violently culminates in brutality.
There may be a catharsis for Tyler's story, but another vulnerable teen is waiting in the wings to take his place. County Lines feels like a cry demanding to be heard, calling out the vicious cycle of austerity the UK's government adopts. It creates an incredibly poignant and sobering dialogue on the cataclysmic fallout of their measures, and how they ripple into the fragments of a broken society, desperately clawing at the cracks.
---
County Lines is out in cinemas and on digital platforms now!