by Leoni Horton 
Dripping in glitter, and bursting at the seams with that good, old fashioned razzle-dazzle, The Prom is a theatrical explosion of energy from showtime to curtains. Flamboyant in every sense of the word, Ryan Murphy's latest all-singing, all-dancing venture is a High School Musical meets Glee mash-up with the volume turned way up high. Although drowning in unabashed silliness and too wide, teeth bleached smiles, this toe-tapping, skin-tingling, infectious jab of chaos is packed full of heart in all of the right places.
Meryl Streep plays Dee Dee Allen, a two-time Tony-winning Broadway star, who alongside her co-star, Barry Glickman (James Cordon), finds herself the subject of a barrage of unforgiving, career-shattering reviews. Desperate to maintain their reputation and disprove the accusations of narcissism, the pair team up with side-lined chorus girl, Angie Dickinson (Nicole Kidman), and  failed Julliard graduate turned bartender, Trent Oliver (Andrew Rannells), to try their hand at celebrity activism. Once decided that poverty is too big of an issue for them to fix, the group select a more manageable, 'little injustice' from the trending topics of Twitter, eventually landing on the misfortunes of Emma Nolan (Jo Ellen Pellman), a gay, Indiana high schooler, who is being prevented from attending her prom: 'We're gonna help that lesbian whether she likes it or not' quips Barry, oblivious to his selfishness.
The group pack-up their sequined gowns and acting awards on to a bus, leaving the bright, accepting lights of Broadway in their wake to rally behind Emma with picket signs, chants and musical numbers. 'We're liberals from Broadway!' they announce, storming a PTA meeting headed by concerned, local Mother (Kerry Washington), who refuses to have her daughter, Alyssia (a closeted lesbian and Emma's girlfriend, played by Ariana DeBose) from attending a 'homosexual prom'. Failing to recognise Emma, Dee Dee treats the crowd to a wonderfully ironic show tune, continuously crooning 'It's not about me' as spotlights rain down on her from all around. Once all eyes are on them, the group outline their plan to the school's principal/Dee Dee mega-fan (Keegan-Micheal Key), who nervously asks them to back off. Yet, blinded by their selfishness and celebrity, the group continue to put minimal effort into helping Emma with her cause: 'We did it!' they cheer after performing an out of place musical number about acceptance to an arena full of Monster Truck fans. Then, eventually, one by one, stung by the memories of their own heartbreak and touched by Emma's kind-hearted determination, the group's masks of showbiz razmataz begin to slip, and their self-serving plan of redemption falls by the wayside. 
Inspired by real events and based on a Broadway stage musical of the same name, written by Matthew Sklar and Chad Beguelin, The Prom's energy often feels akin to that of a box full of frogs. Murphy makes no attempts to scale back the theatrical pizzazz of the story, stuffing as many limb-flailing dancers and grand, big-budget musical numbers into almost every scene. With dazzling and unflinching smiles, each cast member gets their moment in the spotlight: Kidman delivers 'Zazz' as an ode to the distinctive, theatrical choreography of Bob Fosse, and during 'Love Thy Neighbour' Rannells prances through a small-town mall with the tenacity of a gazelle on psychedelics. Yet, while most songs are a snappy tribute to the magic of Broadway, others are over-long and indistinguishable from the pack.
Streep is the obvious standout of the star-studded ensemble cast, possessing more emotion in one stern eyebrow flicker than is in the entire unyielding performances of her over-acting castmates. As Dee Dee she is an icon and a diva, making Cordon and co look like small-time amateur dramatics fodder in comparison. Cordon is problematic, playing Barry as a jazz-hand waving, 'let's go shopping' gay caricature. Yet, although annoying at times, Cordon does occasionally manage to break through, delivering biting jibes and genuinely compelling humour alongside sincere emotion: 'they threw me away' he chokes, eyes stained with tears as he recounts his own coming out story. Kidman and Rannells are fantastic when they get the screen-time, but have little to do or say outside of their over-the-top choreography and inessential background banter. Jo Ellen Pellman is bright-eyed and bushy-tailed as Emma; there are well-constructed layers to her performance and promise of a career as bright as one of Barry's silver sequined suits.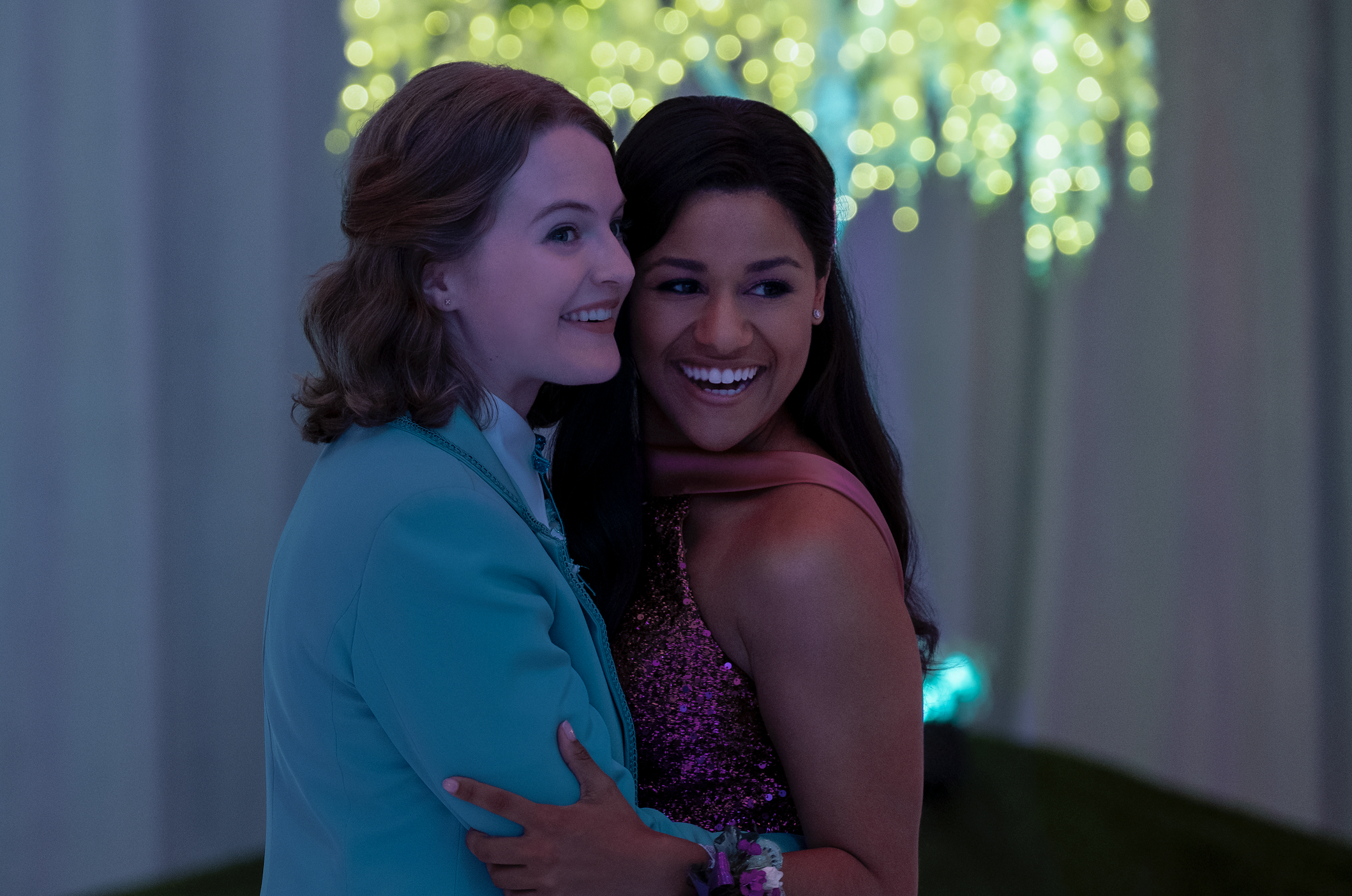 Although The Prom starts with a blinding first act, the raucous fun eventually begins to fizzle, and some scenes begin to feel like filler to an unfocused and one-note story. Technically the film is a mess, dizzying in its execution with a nauseating amount of colour and sparkle flooding every single frame. Just past the midway point, motion sickness sets in: ceaseless, candyfloss coloured light illuminates Matthew Libatíque's ever spinning, ducking and diving camerawork, making The Prom feel more like a fairground ride than a film. However, despite the corny dialogue and predictable story beats, it's challenging to deny that Murphy knows precisely how to tug at the heartstrings. It seems impossible to critique him for his sickening, cliched theatrics when everything he lays hand to seems specifically engineered to be as ostentatious and showy as possible; The Prom never attempts to pretend to be something that it isn't. 
The Prom is at its best when the cameras stop twirling, and the light show settles down. Although diluted, and overly simplistic, it's in these calmer moments that Murphy in able to shine a light on the heartbreak and sacrifice the LGBTQ+ community so often have to deal with. By the time we reach the rip-roaring finale, it's difficult not to wish that we could all live in a world where every ostracised, gay teen could get their own tailor-made, magical, Murphy happy ending.
---
The Prom is on Netflix now!