The cinema schedule ticks along like clockwork. Award season films, blockbuster films, and festival films all revolve and rotate seamlessly, with no let up. Come November, a good month before the actual holiday, you can guarantee that we're going to be inundated with cheesy Christmas films.
You know the type. Sickly sweet carols as someone learns to true meaning of life is to be selfish and constantly caring as the CEO or Bakery Shop owner gives it all up for love and family.
Last Christmas, he he, we celebrated the Yuletide season with a mammoth of a film – Last Christmas.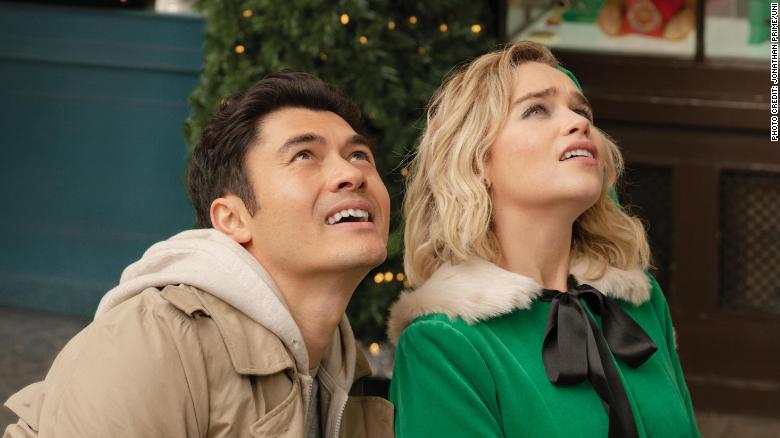 Inexplicably directed by Paul Feig and written by Emma Thompson  inspired by the music of George Michael, Last Christmas revolves around Katarina – or Kate. Working at an all-round Christmas shop, Kate has seemingly lost her way – she's scatty, drinks too much, and couch surfs her friends places. Following an illness the previous year, Kate feels lost and despite her best efforts to become a singer, she fails at every step. When the handsome Tom appears at her work, she finds herself whisked away on an unlikely romance.
Last Christmas is better enjoyed blindly. Stop intrepid reader – it's best to not read reviews, don't watch the countless adverts in abundance on television, and frankly, forget about the title, especially if you are versed in the holiday Wham! number.  Just forget all of those things and head into this cheesy romantic film blankly. Inspite all of that, Last Christmas carries itself with enough heart to heed its worst and most embarrassing moments.
First of all, Emilia Clarke is terrific as Kate. She bounces with that reckless furore that made her pretty competent in Me Before You. Only this time her character is a bit more wayward before. Clarke is energetic with great comedic delivery of lines such as "the shitting bird just shat in my eye," whilst making her tragic disarray believable even after her illness. With such a rhythm to her character, whose journey here is a little twee owing to the fact she suddenly wants to ditch performing to help a homeless shelter (admirable and noble but still twee.) Clarke handles
Clarke is paired opposite Henry Golding who is dreamy. I don't mean to slice him down to just his looks but he has romantic lead sketched all over him. His delivery is still wooden and his performance uneven, Golding especially illequipped to handle the emotional reveal complete. The pairing with Clarke works well and they have oodles of chemistry (but one suspects that Clarke, being as affable as she is here, takes much of the brunt off that. Even I just want her to smile at me lovingly.)
There are a lot of themes here that are thinly used to give Last Christmas more Yuletide feelings of caring for each other. The film is set in 2017 so there's the heat of Brexit lurking – impacting Kate's family as they are immigrants from Yugoslavia. Kate's Mum, played by Thompson herself, is a hard-nosed woman who can be unforgiving, and yet struggles in a country she calls home wanting to oust her. Within this family dynamic, where Kate nearly refuses to come home and her sister hides her sexuality, there are even more threads of true acceptance.
There's a lot of scenes that showcase immigrants as the backbone to our country (which is absolutely right) and it is mixed with scenes about how we should care for our homeless populations (which we absolutely do) but it does somewhat get muddled within the centric story. The script is stuffed like a Christmas Turkey (or layered like a "lesbian pudding.")
Last Christmas is good. OK. It's cheesy and it is supposed to be. It's sentimental.  The overbearing Spirt of Xmas shoves mulled wine warmth down your throat until your are drowning in cheer. The tenuous link to George Michael doesn't work except for the big finale number  and one wishes they'd leaned properly into the musical aspect of the film. Yet the centric romance, the hearty themes, London as a character, and every single one of Michelle Yeoh's outfits is a revelation. It's sickly sweet but damn it if we're not going to watch it over and over again.
---
You can buy or rent Last Christmas online now!