Parenthood comes with a lot of challenges and this latest comedy-drama movie tackles them head on.
Directed by Curtis Vowell, and produced by Taika Waititi, Baby Done revolves around young adventurous couple Zoe and Tim. They climb trees, they go on high-flying adventures, and they dream of travelling the globe. However, Zoe finds herself pregnant. All though Tim is elated, Zoe struggles with the unexpected bundle of joy, especially as it puts halt to all of her dreams. As Zoe spirals, the vastly different reactions cause strain on the relationship. Can they pull it together before the baby arrives?
Screenwriter Sophie Henderson flips the script by focusing on the Zoe's reluctance to be a mother, rather than Tim's, who is very much taking the reins of responsibility and excitement. Henderson deftly weaves through the drama and comedy in a recognisable Kiwi tone (deadpan or sarcastic delivery, with sprinkles of odd-ball moments.) It is a considerate and conscious movie that deals with aspects of pregnancy too many people are ashamed to talk about; the loss of identity and spontaneity that comes with the parenthood. There is such an understandable touch to this story that most, if not all, parents can deal with.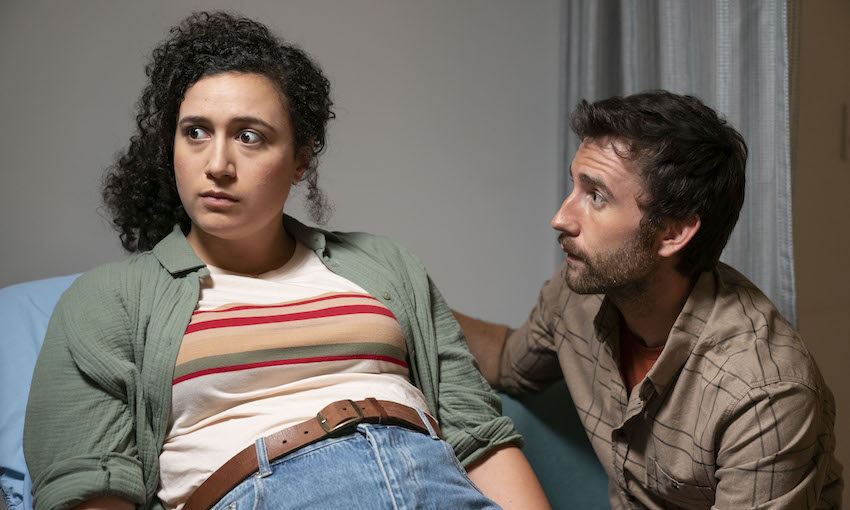 Rose Matafeo, in her first leading performance, lights up the screen as Zoe. The well-known comedienne is brilliant as the panicking mother-to-be who doesn't want to change. Whilst everyone around her expects Zoe to jump into baby planning and excitement, Zoe just wants to be herself still and fit in as much as possible before the baby comes. Matafeo naturally dives into this with a spunky attitude and her watchable, affable presence adds to the weight of Zoe's turmoil with no judgement.
From the start, Matafeo has great chemistry with Matthew Lewis as Tim. Though his character is somewhat unremarkable, there is an approachable and open nature to him that keeps the sparks flying throughout the pair. The further Zoe leans into this undoing, the more pressure Tim has bringing her back into his excitement and you can understand why it all blows up like an unexpected glitter bomb.
Baby Done is a heart-warming picture that has its laugh out loud moments (an encounter with a pregaphile provides a lot of titters) and tearful ones too (especially at the end). Less crude and amped as movies such as Knocked Up and feels spiritually related to Tully. Baby Done is surprisingly charming and full of warmth.
Bonus: For anyone who enjoys the Waititi Universe, there are some cracking cameos from familiar faces.
---
Baby Done is released in the UK from 22nd January.
Please head to https://www.vertigoreleasing.com/portfolio/baby-done/ for more information