Working in retail is tough, really tough.  Long days or nights standing on your feet, restocking shelves and dealing with customers who patronise you or are very foolish, constantly asking asinine questions. There is little reward as folk struggle on minimum wage and by the end of the day, you're left cleaning up the messes of others. The strange, disgusting, messes of others.
Whilst a lot of comedies have touched on the subject such as classic Are You Being Served? and cult movie Clerks, if you've worked in retail, it doesn't get more real that sitcom Superstore.
Created by Justin Spitzer, the series revolves around the employees at retailer Cloud 9, run by the affable and naïve store manager Glenn (Mark McKinney). When Jonah (Ben Feldman,) a business school drop-out, gets a job there, he sends ripple through the store attracting the attention of no-nonsense assistant manager Dina (Lauren Ash) and the ire of floor manager Amy (American Ferrara). However, as he begins to learn the tricks of the trade alongside colleagues such as over-achieve Mateo (Nico Santos), young mother to be Cheyenne (Nichole Sakura), voice-announcer Garrett (Colton Dunn), and a whole lot more of curious characters.
Although it struggles to find its feet in the short first series, it comes alive in the following seasons. The hilarity comes from the weird and bizarre, but somehow relatable, situations the workers wind up that is interspersed with crazed customers (either part of the storyline or different cutaways.)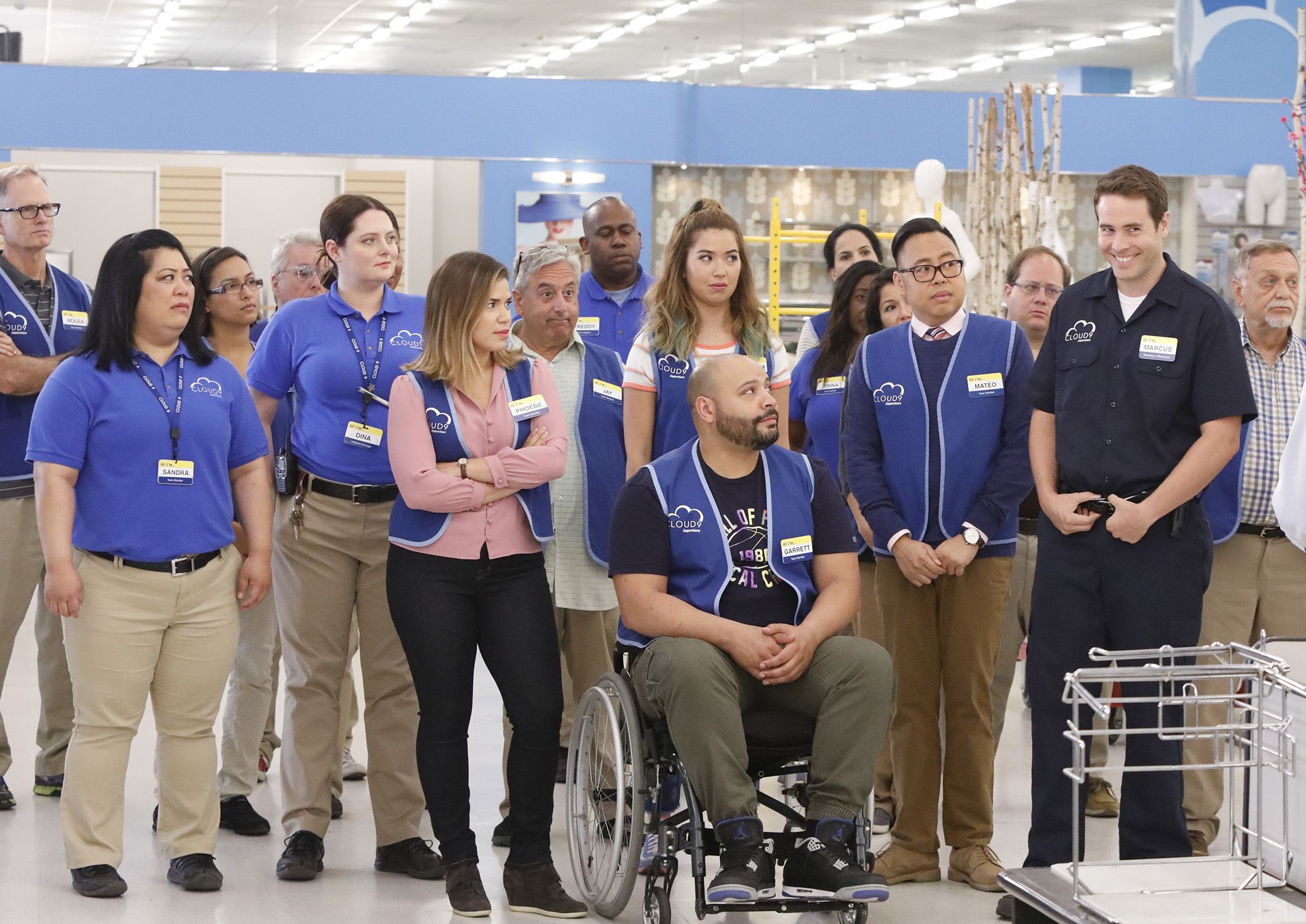 The characters and actors are all brilliant. All of them. They each play their own part but develop over the series.  Ferrara and Feldman as the struggling Amy and Jonah are the main evolving relationship that is a fantastic slow-burn. You are bound to have a favourite. For me, Lauren Ash's Dina is exceptional. Here is a character who knows herself and owns her sexuality. Over the course of the show, you come to love her fiery demeanour. She has a softer side as well and some pretty hysterical moments including her impersonation of a crow,
What is also great is random side-characters start to move towards the forefront, including the brilliant Kaliko Kauahi as the hapless but sweet Sandra. Superstore is a great diverse cast of all shapes, sizes, colours, disabilities, and sexualities that blend together perfectly, making it a very warm show as well.
Weaved in the comedy are actual tough subjects which highlight the reality of working in a corporate store such as this. So many people can relate to corporate shilling out stressful policies, rebranding for no reason, and cutting back on hours whilst also paying pitiful wages. They even cover  The show constantly tackles aspects of workers' rights and the formation of a union alongside bigger tragedies such as a tornado or a power-cut. Season 6, which is currently still showing, plays with coronavirus as the backdrop, including safety protocols, lack of PPE, and the jumble of knowledge that came at the beginning of the pandemic. Recently, it tackled Black Lives Matter and the corporation painting on policies to mask the systematic racism on the inside.
Superstore has landed on Netflix UK. Though for some it might hit too close to home, you should definitely