by Chris Connor
Cathy Yan is one of the most sought after directors working today following the success of 2020's Birds Of Prey, led by Margot Robbie, singled out by many as one of the best entry's in the DC Expanded Universe.  Prior to the success of what was remarkably her 2nd feature film, Wan helmed the acclaimed Dead Pigs which premiered at the 2018 edition of the Sundance Film Festival and this week finds its way onto MUBI's streaming service, offering it a belated chance to be seen by audiences.
Dead Pigs is inspired by a true event from March 2013, when close to Shanghai the corpses of around 16,000 pigs came down the Huangpu river, having been illegally deposited by farmers from poor provinces upriver. This event showed the ever-present chasm between China's continued growth as a global superpower but also the horrifying living conditions and quality of living for many of its population out in its rural communities.
While this could have made for bleak viewing , the decision to intercut between several separate but interconnected stories breathes life into the film, allowing it not to be too depressing or focused solely on the titular events.  The story follows Sean (David Rysdahl )an expat American in Shanghai, Candy Wang (Vivian Wu) owner of a Beauty Salon and sister of pig farmer Old Wang (Haoyu Yang)and Old Yang's son Zhen (Mason Lee), who has recently left home to take up a job as a waiter, crossing paths with wealthy socialite Xia Xia (Meng Li).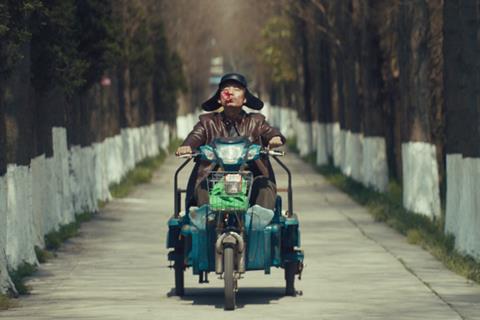 It is a funny, moving and incredibly inventive debut showing influences from classic cinema both Asian and Hollywood. Paul Thomas Anderson's films particularly Magnolia have been singled out as a large influence on the film and it is not difficult to see why with the sheer scale of ambition on display a marvel to witness.  It is thrilling for the audiences to pick apart how the various storylines will interweave amidst the main event being depicted.
The decision to depict individuals across the wealth divide is truly one of Dead Pigs biggest strengths offering the perspective of both sides of modern China, which is perhaps not reflected on film as much as it should be.  In particular we are afforded a clear glimpse at the struggles of Pig farmers in China and the farming community in general.
For a debut feature there is an incredibly assured sense of direction, coupled with constant stylish flourishes and a sense of ambition many seasoned directors would struggle to compete with.  While the jumps in narrative can be at times hard to follow it is rewarding to see a young filmmaker take these kind of leaps and for the majority to land with great success.
Dead Pigs is far removed from the gargantuan success of Birds Of Prey and it is difficult to comprehend that the two films were from the same director, this is nothing but praise for Cathy Yan and speaks volumes for the impact she has already had with just two films under her belt.  It will be intriguing to see how she follows up the success of both projects with her next film but based on the results to date it will be one to savour.  The performances and storytelling captured in Dead Pigs have rightly come in for praise and marked Yan out as one of the most exciting and sought after directors working today, with her stock surely set to rise with her debut now more widely available for audiences.
---
Dead Pigs is available on MUBI now!