by Jordan King
With only a short 66-minute runtime, South Korean auteur Hong Sangsoo's Introduction, premiering in competition at this year's Berlinale, is a brief but impactful piece of cinema. Loosely following a young couple – aspiring actor Youngho (Shin Seokho) and his fashion student girlfriend Juwan (Park Miso) – as they navigate their dreams and find themselves transmigrating between Korea and Germany, Sangsoo continues in his recent years' trend of creating self-reflexive works that discuss art and life with a vérité sensibility.
In the film's opening moments we witness Youngho's father, a physician, praying to God for "one more chance" before putting on his white coat and heading to work. What he wants another chance at, we are never told, though we may suspect it is a desperate wish to work things out with his now-estranged wife, but such is Sangsoo's elusive approach to characterisation. The introduction of a character affecting outward composure whilst inwardly in crises sets the tone for the film to follow however.
When we first meet Youngho, he has come to visit his dad at work. Between sipping a tea that is too bitter for him, chewing cough drops, and chainsmoking as he shoots the shit with one of his father's colleagues whom he professed to love when he was a little younger, we get the sense of a good if slightly uncertain of himself young man. His dad is busy administering acupuncture to a famous actor (Ki Joobong), whose close friendship with Youngho's mother alludes to an affair that is never admitted to and whose presence later in the film will make for an explosive sea resort restaurant encounter. As a young actor himself, Youngho's dad's preoccupation with an old hand in the acting game must surely play on his mind – Sangsoo's black and white cinematography certainly sets a melancholic malaise over the vignettes that unfurl over the course of his film.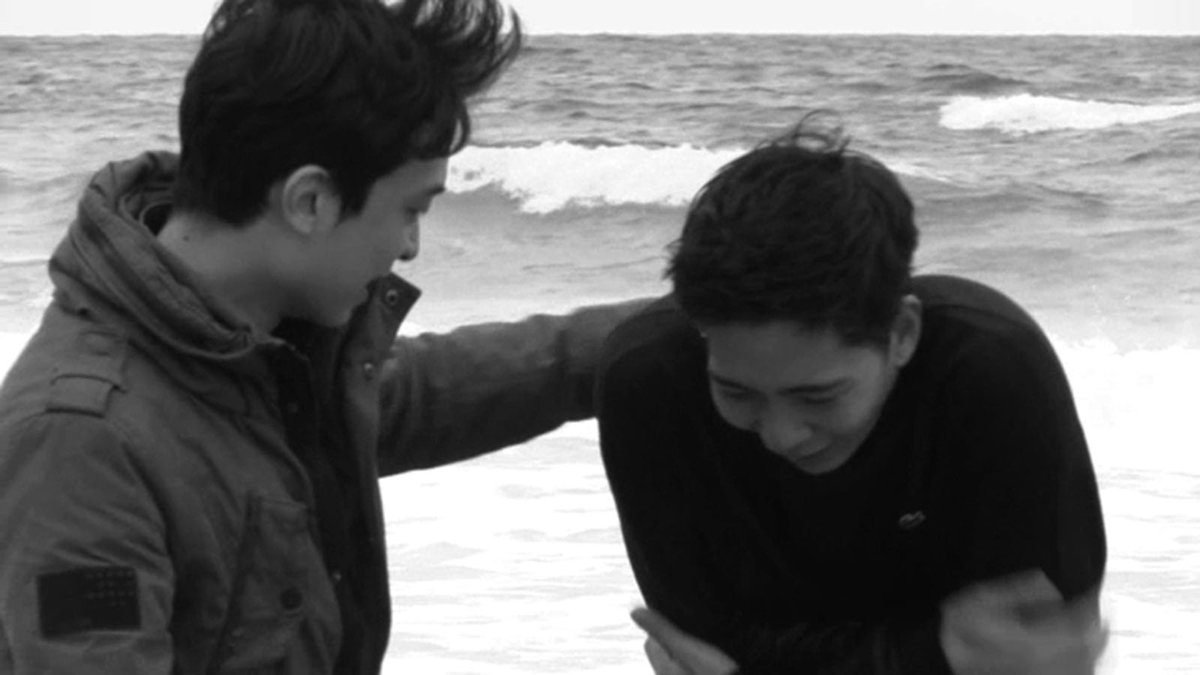 From the encounter with his dad, we then follow Youngho as his girlfriend decides to move to Berlin to pursue a fashion degree, and as Youngho follows her to Berlin on a whim that seems equal parts born of hopeless romanticism and just sheer hopelessness following a crisis regarding his future as an actor. Park Miso and newcomer Shin Seokho share an endearing chemistry as young sweethearts Juwan and Youngho, and as they both in turn face tirades of questions about their futures from their family, Sangsoo's Ozu-esque staticity with the camera captures his characters in a manner both unjudging and almost documentarian. What Introduction lacks in narrative cohesion, Sangsoo makes up for in confidence in his audience's contentment to simply be around these characters as we watch key moments in their lives take place.
A restaurant encounter in the film's final act, as Youngho faces a grilling from his mum (Cho Yunhee) and the old actor from his dad's work with only his buddy Jeongsoo (Ha Seongguk), reveals that Youngho's decision not to continue acting is because he was asked to do a kissing scene that he morally objected to. "If a man embraces a woman that act has a certain absolute meaning" Youngho nobly attests – "Whether sincere or playing around, it's all love" the old actor counters, summing up in a brief exchange much of the intergenerational tension that lays at the heart of Sangsoo's film.
Though loose structurally and by no means a flashy or slick piece of filmmaking, Sangsoo's Introduction is a potent reminder of the Korean auteur's knack for divining a wealth of wisdom from an economy of cinematic technique. By the film's end, we are no more enlightened about the course Youngho and Juwan's life may take from where we leave them, but we are nevertheless grateful to have experienced a small part of their journey.
---
Introduction played as part of Berlinale.