Anti-historical period dramas became popular thanks to Yorgos Lanthimos' award-winning The Favourite. Based on the reign of Queen Anne in 1711, the film was praised for its dark wit and blunt delivery as well as the performances and production design.
One of the writers of The Favourite, Tony McNamara decided to take his anti-historical format to the small screen with a droll take on Catherine the Great.
Starring Elle Fanning in the titular role, the film looks at the rise of Catherine after she is wedded to Emperor Peter III, played here by Nicolas Hoult. Peter is not best known for his affable natural and the naïve Catherine, who starts her marriage looking for love, is soon to discover that her new husband is a depraved and dangerous individual. As she tries to adjust to life within the palace, Catherine yearns to progress and strife to learn more about art, science, and culture. However, as her ideas start to oppose that of the Emperor's, the young woman must gather friends for a revolution.
Elle Fanning has been knocking around the old industry since she was a child, following in her sister Dakota's footsteps. Though she excelled in movies such as The Neon Demon and The Beguiled, there hasn't been a vehicle for her to show the true range of her talent. To be honest, her skills have felt like they were somewhat stagnating, especially in big blockbuster movies. Fanning only shone in small, weird indie like How to Talk to Girls at Parties.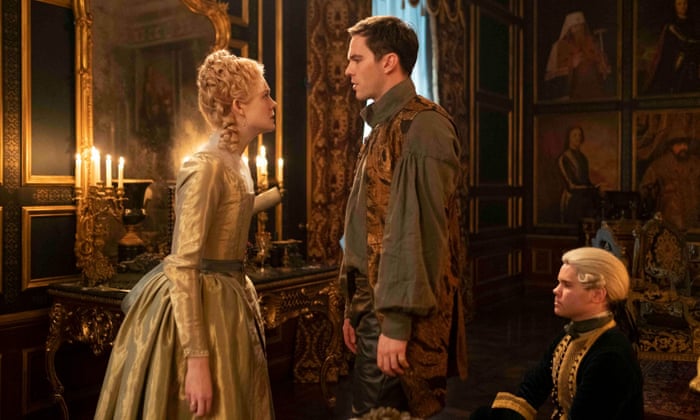 Taking the lead from in The Great, Fanning is superb. And that's saying something because she plays opposite Nicolas Hoult (but more on him later.)  Fanning shines in this role as a woman who quickly loses her innocence, and she is thrust into the ravenous royalist life. With her husband treating her as a baby-making machine, ridicule from the subjects around her, and an increasing loss of power, Catherine must take drastic action.
Fanning can command her character and bring about all these emotions, especially alongside a blossoming love for paramour Leo (Sebastian de Souza.) Beyond the growth of her character, Fanning exceeds at delivering the comedy. There is one tiny moment in this whole series that is one of my favourite comedic performances of recent years.
Hoult is a fantastic foil to Fanning and is fabulous whilst doing it. He is more than a bumbling buffoon who has a penchant for torture and death. At some point, Peter even starts falling in love with Catherine. Still, Hoult is meant to be a petulant obstacle in her way. Similarly to his role in Kill Your Friends, Hoult has can be a brilliantly vicious wedding.
The cast includes Phoebe Fox, Sacha Dhawan, and Charity Wakefield who all add their own voice to the show but the centre pairing steal all the scenes they are in, battling for prominence when they are together.
It is a grotesque and grand depiction of life within the palace wall which sees how the Russian Imperial state lavished and reigned unkindly to its people. An outbreak of the pox has folk
The Great has all the things of saucy historical romp, added with McNamara's famed dialogue and silly, funny scenes. Funny but with moments of poignancy, this show really lives up to its name.
---
The Great is out on DVD and to Download & Keep on the 8th March.