by Jordan King

Written and directed by first-time feature filmmaker Katie Found, Australian LGBT coming-of-age romance My First Summer is a revelation. Steeped in a sumptuous magic-hour glow that promises to soften and melt away the traumas and pains of its teenage protagonists, Found's story of young love and self-discovery is a deeply moving, profoundly beautiful, and narratively as well as visually poetic piece of cinema.
Brought up in isolation by a reservoir miles away from the nearest town, sixteen-year-old Claudia (Markella Kavenagh) finds her sheltered existence shattered when her mother, deeply troubled writer Veronica Fox (Edwina Wren), drowns herself. She had planned for her daughter to join her, having lived in a world where she believed 'fences were the wall of her womb' and Claudia's safety depended on her being kept within them, but as Claudia narrates over the haunting opening images of a yellow dress floating beneath the water, 'something pulled me out… a light… a glow.'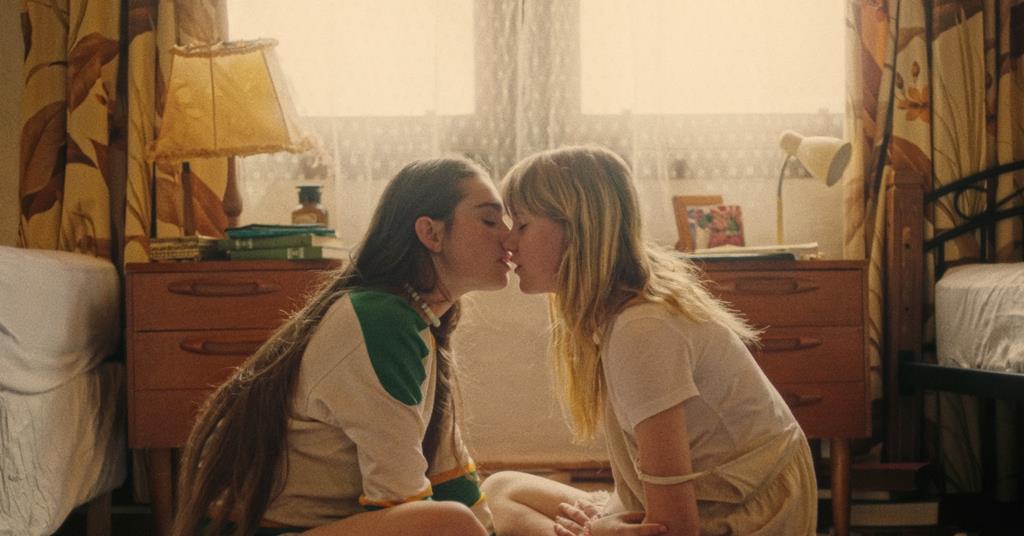 That light, glowing presence Claudia has felt, we will later come to learn, is the symbolically named Grace (Maiah Stewardson). Out on a cycle the night Veronica took her life, free-spirited Grace saw her and her daughter submerged in the waters of the res. She also saw Claudia come back out, a fact she later dutifully neglects to tell the two lackadaisical policemen trying to piece together the circumstances of Veronica's death. Concerned for the safety of this mystery girl, Grace calls on her the following day, appearing at her door bathed in sunlight by DoP Matthew Chuang's ethereal camerawork and framing.
Grace and Claudia's connection is almost instantaneous, with Claudia in early scenes supplanting Grace's presence with visions of her mother returning to comfort her. As Grace gently holds Claudia's shoulders, willing her to 'breathe in, breathe out' as she will do time and again over the film's duration to anchor Claudia at the points where she is most at risk of being drowned by her grief, the two girls seem to form an innate understanding that they will be each other's solace from their personal traumas. From there onwards, in furtive touches of feet sat side-by-side on the couch, shared baths that promise a rebirth for both young ladies, a series of play dates that introduce Claudia to the joys of marshmallows and strawberry milk and the power of a pinky – no, a purple promise, and conversations that twist and turn from the playful to the profound in the way conversations do when you're on the cusp of adulthood, a once-haunted house becomes a veritable Eden in which love blossoms between these seemingly fate-bound wayward souls.


As the world of adults dissipates, never quite leaving Claudia and Grace alone but also staying far enough askance to let us live in the girls' orbit for a little while, we are reminded of the innocence and purity of young love. When Grace rests her head on Claudia's chest and asks 'Can I feel your heart?', it is hard not to feel choked up by such a simply, softly spoken reminder of what it is like to discover love for the first time and reach desperately, tentatively for the words and ways to articulate it. In any other filmmaker's hands, moments such as this may come across as trite, but Found has clearly created an intimate, safe space within which Kavenagh and Stewardson come alive on screen in a way that makes 'movie magic' feel palpable and real. By the time we reach the girls' inevitable first kiss, which is for my money the most sweet and lovely in any coming-of-age film I know, Found's perfectly paced and infinitely nuanced development of Claudia and Grace's bond makes the moment feel overwhelmingly well-earned and unforced. Stewardson's brimming excitement and Kavenagh's coy anticipation swirl around one another to give us one of the great teen romances in modern film, founded on that most simple adolescent desire – for someone to know that we exist and to understand us.
Offering the viewers a male-gaze free celebration of young lesbian love, shot like a dream and set to a Typhoon and Wild Ones featuring soundtrack that gives off all the best summer vibes, My First Summer is a near-faultless first film from a director who finds a way to heal a world of pain and isolation one sun-kissed day at a time. Though the film ends on an ambiguous note after its emotionally charged climax, there is one thing of which I am absolutely certain – you simply must seek out this movie. We don't do stars here at Movies on Weekends, but this is absolutely a five-star film – I purple promise.
BFI Flare Film Festival is playing now!
Pick up tickets!