by Liselotte Vanophem
When searching for love, there are elements you're looking for. Whether it's having the same humour, interests or passions, you want to have some things in common. When you've found your partner, you vow that you love him or her until death do you part. Sadly, that 'till death do us part' day came too soon for Mary. After losing her husband, she thought that the worst day was behind her. However, she couldn't be more wrong, and that's being proven in After Love, the first full-length movie from writer/director Aleem Khan. While the story isn't the most thrilling one, the film itself is undoubtedly emotional, heartbreaking and delightful.
A lovely evening becomes a nightmare for Mary (Joanna Scanlan) when her husband Ahmed (Nasser Memarzia) passes away. His death turned her life upside down and not only because she spends the days alone. No, also because she finds out that her husband had a secret family across the English Channel in Calais. Completely heartbroken and without a plan, she decides to confront the family, but that doesn't go as planned. When Mary arrives at the house, she's being regarded as the new cleaning lady. At first, she's reluctant about 'taking on' that job. Still, she sees it as the perfect opportunity to get to know Ahmed's lover Genevieve (Nathalie Richard) and Solomon (Valid Ariss) without raising any suspicions. The more time Mary spends with the family, the more secrets she discovers, but the more complicated it becomes to come clean about who she is. Will Mary tell the family the truth or not?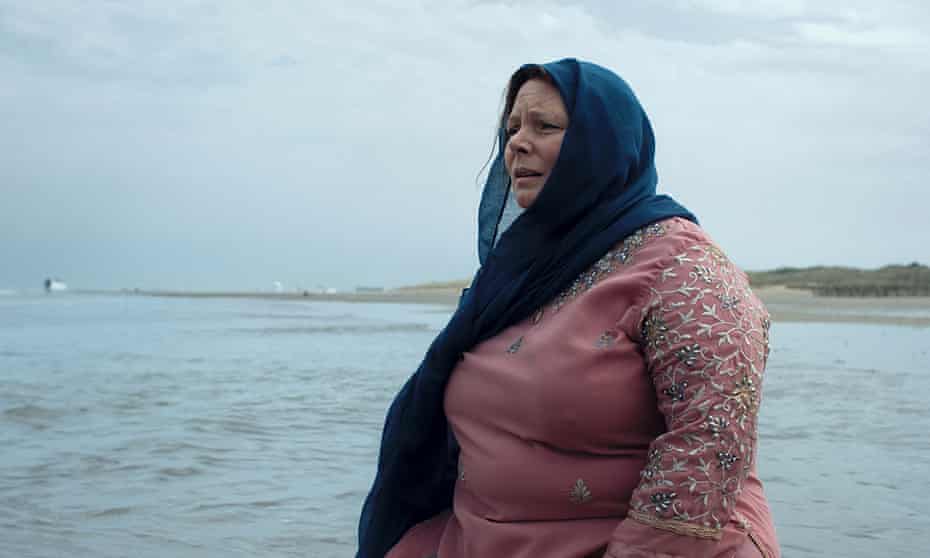 This story solely focuses on (broken) relationships and emotions,
There are the beautiful scenes by cinematographer Alexander Dynan (First Reformed). He uses bright shots to give the audience the chance to soak in all the feelings. If you combine this with the subtle but effective editing from Gareth C. Scales (How To Build a Girl), then you get a wonderful and charming movie.
Scanlan already won awards during the Dublin International Film Festival and Thessaloniki Film Festival, and it's understandable why. She brings such a heart-breaking and delicate performance to the screen. Even during the solo scenes, she captivates the audience. When she's not alone, she's either facing Richard or Ariss. Richard's performance starts uninteresting, butas the story evolves, the strong her acting becomes. We don't see a lot of Ariss but when we do see him, he brings a touching performance.
Cinema is back and with a bang! Not only the big names return to the screen, but also the smaller ones. After Love is a must-see because watching this beautiful, touching, and elegant movie will make you fall in love with cinema again.
After Love is out in cinemas now!