by Chris O'Connor
Emma Seligman's debut film Shiva Baby has won rave reviews since its premiere in 2020 at SXSW.  The film focuses on Danielle a Jewish girl in her late teens who is attending a shiva which acts as a wake for the Jewish community, with her family.  Danielle we find out is not attending college as some of her friends are and has been seeing a sugar daddy Max. Unbeknownst to Danielle Max is also attending the Shiva as is Danielle's ex Maya.  The film is an expansion of Seligman's short film of the same name from 2018. It is a remarkably mature debut and it is amazing that this has come from someone who is only 25 making Seligman a name to look out for.
The score is one of the standouts of the film making each awkward encounter at the Shiva incredibly awkward and tense, it has been compared to the score of a horror film. While on the face of it this might seem like a gentle comedy the interactions between Danielle and the guests she hardly knows who want to know why she is single or what her prospects are like, feel incredibly anxious and fraught. The awkward interactions have drawn comparison to the opening scenes of the 60s classic The Graduate with a dissatisfied Benjamin reluctant to discuss his future with an assortment of strangers, however here the tension levels feel dialled up several notches.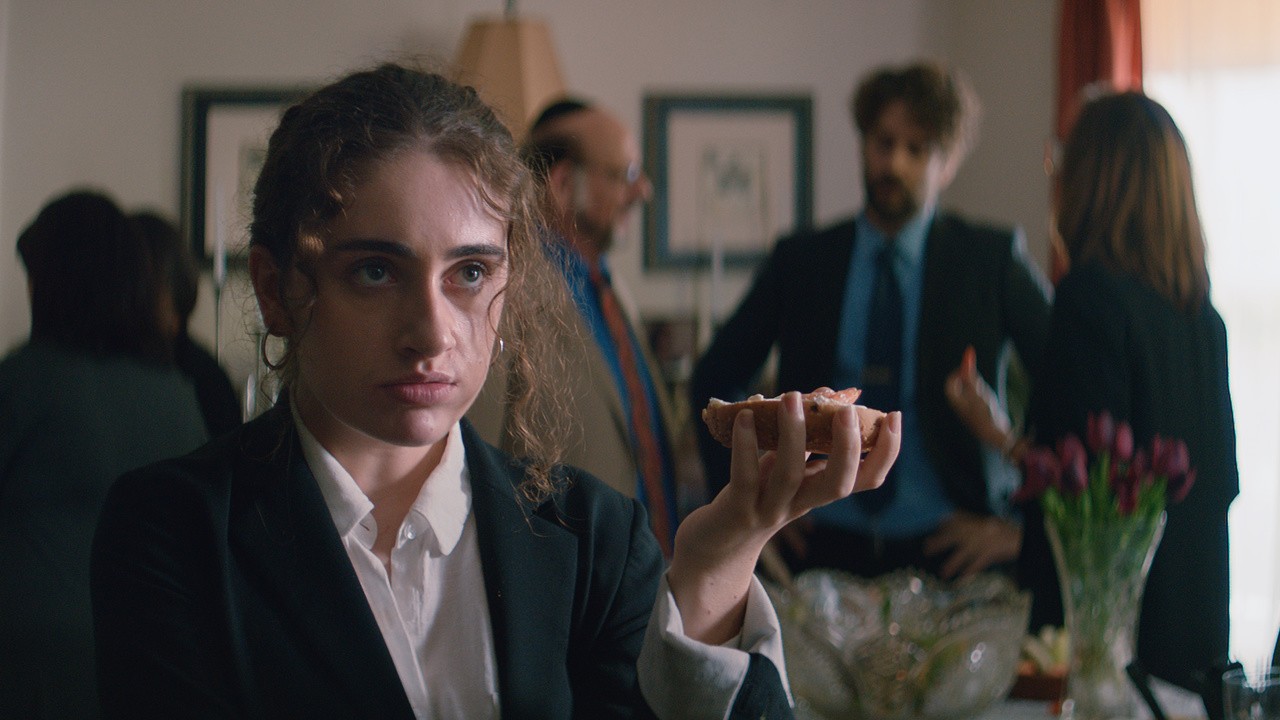 The cast are impeccable without fault selling the anxiety inducing nature of the film perfectly and the natural awkwardness that ensues.  Rachel Sennott is a revelation as Danielle and Molly Gordon gives some great support as Maya, initially dismissive of Danielle but opening up to her as the film progresses. The ever impressive Fred Melamed and Polly Draper are perfectly cast as Danielle's doting and perhaps over-caring parents Debbie and Joel. For a film that sits at the 70 minute mark it feels like the story manages to come to a natural conclusion and it doesn't feel rushed in the slightest.
Shiva Baby certainly warrants the plaudits that have come its way and is a pitch perfect blend of black humour filled with sizzling tension. It is an intriguing glimpse at the Jewish community and has earned praise for its representation of a different corner of it. The score and performances are particularly worthy of praise as its script and it has certainly set Seligman up as a director-writer to be reckoned with an it will be intriguing to see if she can live up to this level of hype for her sophomore feature.
Shiva Baby is out on MUBI now!