by Sarah Cook
Up until yesterday, I had never seen a Fast and Furious film. It's not that I actively detest the franchise, but it didn't appeal to me. Cars, explosions, and Vin Diesel? No thank you. For fans, the movie series has come on leaps and bounds, with the last three films hitting highs in critical and commercial success. There's even a spin-off movie – Hobbs and Shaw!  

The entire Fast and Furious franchise is unbelievably prosperous, and it seems there are no signs of slowing down as the series edges closer to double digits. For a complete novice, F9 is a genuinely enjoyable movie…because it is big, boisterous, and brainless fun.

This new entry, affectionately known as F9, is the eighth sequel to the original The Fast & Furious film. And in a film series that continuously jumps the shark, boy does F9 bend the laws of physics and family. After going off the grid, Dom and Letty are pulled back into the world of car-based covert operations to stop a world-ending event at the hands of a spoiled rich kid named Otto and, dun dun dun, Dom's younger and estranged brother Jakob.

Unveiling a previously unseen and unspoken about family member, and then making that younger brother the outrageously muscular John Cena, feels like a writing nightmare. Adding that energy into a brilliantly bonkerballs end of the world plot, and some insane car stunts, and you've got a bombastic ninth outing for Dom and his crew. It is so stupidly chaotic that there is some sort of mastery here. The testosterone and cocaine addled sweat of the producers practically steams off the screen.

The thing that makes this high-octane and energetic film work is that director Justin Lin and his own filmmaking crew know that what they are making is ridiculous. There's a car that swings like a pendulum. There's the cheesiest dialogue. There's fucking outer-space, for god's sake! You are going to laugh out-loud and applaud, and it feels like that's what the film has set out to do.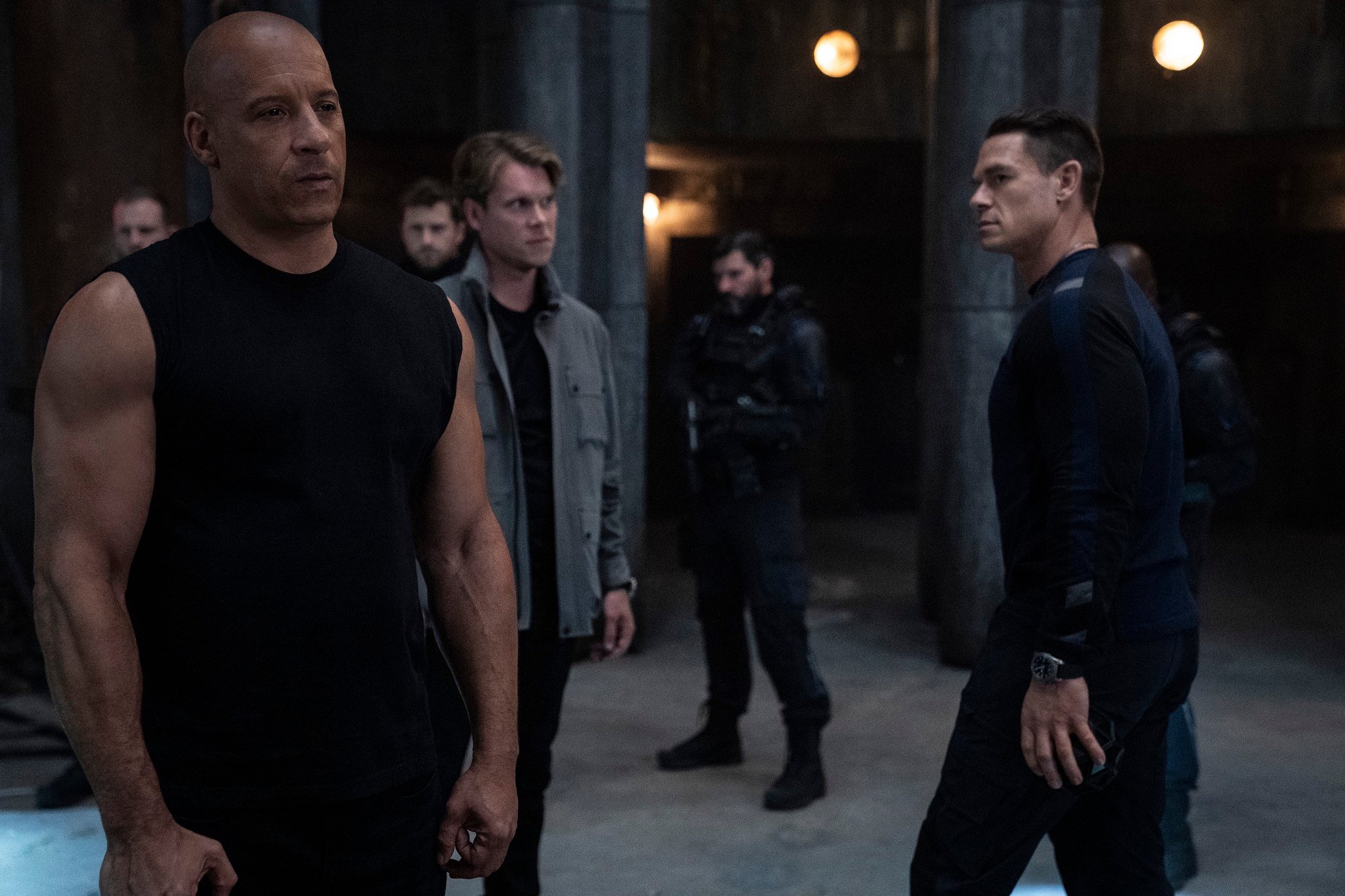 I am not saying it is flawless. The fact that Diesel and Cena take this far too seriously makes them stiff, and their family history sits here as awkwardly as Diesel's arms do on his own body. Plus, a lot of the action is unbelievable: the number of times these characters are sent flying through the air only to land on a car bonnet without a scratch on them is implausible. At least Lin and writer Daniel Casey are aware of this enough to have Tyrese Gibson's Roman bring up the fact neither of them should be alive throughout the film.

I couldn't possibly speak on how F9 fits into the whole landscape of the Fast and Furious franchise. There were obviously call-backs and set-ups that went over my head. Still, for someone new to the series, F9 does exactly what it says on the tin, even if it does it with a flare of ridiculousness. It makes no goddamn sense; compels me though.

But I'll tell you this much; thanks to this film, I am going to strap myself in and go back to the beginning. For fast cars, for furious stunts, and, most importantly, for family.  
F9 is out in cinemas Thursday