by Tom Beasley

In the most talked about scene of Leos Carax's bizarro musical maelstrom Annette, Adam Driver and Marion Cotillard continue to croon a love song at each other during sex, with Driver at one stage warbling the melody from between Cotillard's legs. As well as securing the film plenty of column inches, it's a clear statement of thematic intent. For this couple, literally everything is a performance.
Driver is misanthropic stand-up comedian Henry McHenry, whose "Ape of God" stage persona is an uncomfortable hybrid of Bo Burnham and Frankie Boyle, declaring that "making people laugh is a disgusting, deceitful thing". He sees his shtick as something like a war with the audience, shadow-boxing before he emerges on stage and wearing something that's halfway between a dressing gown and a pugilist's entrance robe. His shirtless torso is often visible beneath, giving the illusion of baring himself and his soul to the audience, but actually wrapping it up in artfully constructed accoutrements of performance.


By contrast, Cotillard's Ann is a respected opera singer, who ends each performance showered in acclaim and applause as she dies dramatically on stage. "I murdered them," says Driver after a good gig. "I saved them," Cotillard states. It's high art versus low art, with Driver bringing his uniquely unsettling charisma to a toxic, fractured man who's more ego than person. He's a clown who thinks he's above clowning and resents his lack of cultural status in comparison to Ann, especially when an on-stage breakdown leads his career to plummet as her stock continues to rise. Shrieking showbiz news reports dubbing them "Beauty and the Bastard" presumably don't help.
It sounds like a slightly twisted take on A Star is Born, but Carax is an idiosyncratic filmmaker who doesn't have any time for conventionality and walking paths previously trodden by others. This film, his first in the English language, sees him join forces with innovative pop duo Sparks – recently the subject of an Edgar Wright documentary – to craft an almost entirely sung-through musical which skips with gleeful mischief through styles, tones and planes of understanding.
The title character is Henry and Ann's child, portrayed via an unsettling puppet rather than a human being. Carax has said the decision was born of practical concerns – the baby needed to age several years and accomplish certain feats of performance, and CGI didn't look right – but there's a definite thematic resonance in the idea of the infant being a plaything for her famous parents to move into place. Beloved, but dehumanised.
Initially, the movie seems primed to be a parallel exploration of two artists' lives, but the story's balance tips very quickly towards Henry. He's deeply unlikeable and undoubtedly a misogynist, played with snarl and smarm by a terrific Driver, who uses every inch of his uniquely deadpan darkness as well as his lithe physicality in service of conveying Henry's loathsome arrogance and performative disconnection with the world. Ann is greeted at one stage by a sequence in which half a dozen women come forward to accuse her husband of sexual abuse. The movie leaves the ramifications of this scene ambiguous – was it simply a dream sequence happening in Ann's head, or is it a nod to the way allegations like this can often fade away without material consequences for the alleged perpetrator? Certainly, the comedy world can provide clear examples of the latter.
At the halfway point, Annette pivots from being a movie about a famous couple to one of parental exploitation and the commodification of childhood talent. Ann's piano accompanist (Big Bang Theory actor Simon Helberg) moves from being a peripheral figure to a key cog in the narrative, nursing secrets, hidden connections and the potential to detonate a hand grenade at the heart of the story. It's a nuanced and intriguing – albeit mannered – performance from Helberg, who channels grief and paranoia into increasingly frantic work as a conductor and a tender bond with a child who is treated as little more than a financial asset by her father.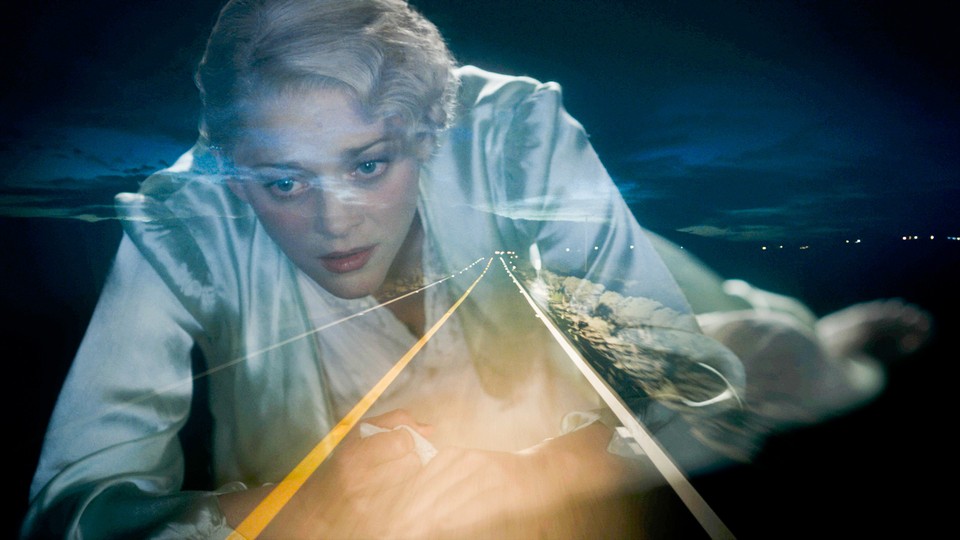 Sometimes Annette feels like an orthodox musical with a clear narrative, but Carax very quickly severs any tether connecting the audience to traditional logic. Caroline Champetier's cinematography tends towards a sort of painterly surrealism, whether depicting the couple's idyllic home, a forest with a mystical aura or the turbulent seas which turn a yachting break into an operatic tragedy. Sparks's music nimbly transmogrifies to accommodate the shifting tones, as aria mingles with spoken word and the sort of catchy art-pop with which fans of the Mael brothers will be familiar.
The most significant thing about Annette is that everyone involved buys totally into its weirdness, from the toe-tapping fourth wall obliteration of opening number So May We Start through to a brilliant, climactic war of words in a prison cell. It's a movie of intense commitment, which rewards audience members willing to take the plunge with it. The edges are jagged and not everything makes sense – in fact, very little does – but there's something utterly and undeniably enthralling about Carax and Sparks's surreal, unruly flight of cinematic fantasy.
The movie concludes with an almighty Dutch angle, signifying a world and a story which has been witnessed from an unorthodox and askew perspective. "Stop watching me," threatens Driver as the screen cuts to black. The arrival of the credits ensures we are forced to comply with his request, but we certainly can't promise to stop thinking about him. Carax's film wraps its tendrils around your throat and dares you to try to work out what it all means. However the dust settles, it's a fascinating rabbit hole down which to dive head-first. There's no other way to do it. So, may we start?
Annette is out in cinemas now!