by Tom Beasley

"I see things everywhere that bear no logic," says Joel Edgerton's unnamed Lord, as if speaking for the audience. We're around an hour and half into The Green Knight and the film is preparing for its final unravelling – a breakneck journey into a world in which palpable, earthy grit butts heads with bouts of fantastical, medieval surrealism. This is David Lowery's brazenly idiosyncratic take on Arthurian storytelling, and this time around there's not a single David Beckham cameo in sight. Guy Ritchie will not be pleased.
Conceptually, this is simple enough. As an early title card states, Lowery's film is "a filmed adaptation of the chivalric romance" Sir Gawain and the Green Knight – a poem of unknown authorship from the 14th century. When a gargantuan, verdant axeman – voiced with gravelly malevolence by Ralph Ineson – arrives at King Arthur's (Sean Harris) court, he challenges any knight present to take a shot at him with his hefty axe, on the condition that he may return the blow a year later. Arthur's under-achieving nephew Gawain (Dev Patel) steps up and beheads the intruder, so must travel to the Green Chapel the following Christmas in order to complete the bargain.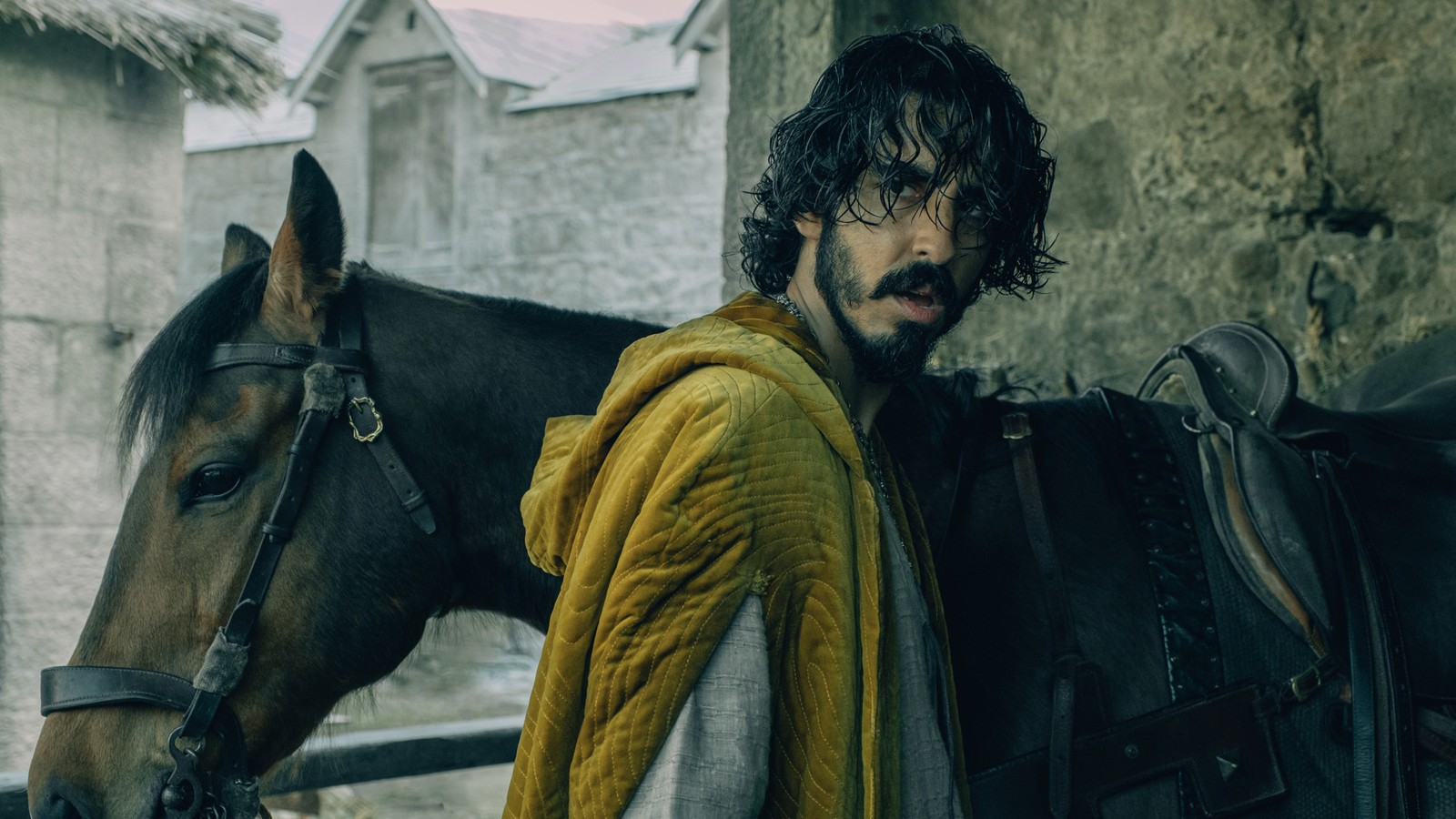 This take on the story feels like a cautionary tale about fragile masculine hubris, above all else. As Gawain stands over the submissive Green Knight before delivering the fatal blow, he looks around at the expectant knights and seems to deliver the lethal strike almost entirely out of a determination not to appear weak in front of the fighters whom he idolises. As his actions transform him into a hero – "I fear I'm not meant for greatness," he confesses to lover Essel (Alicia Vikander) in a rare moment of unguarded candour – he struggles to balance his love for the spotlight and his fear of what awaits him when he makes his journey.
With this in mind, Patel is ingenious casting. Even though Gawain is the epitome of a mediocre man failing upwards, there's something irresistibly sympathetic about the actor's puppy-dog eyes and timid sense of bewilderment. Patel's enigmatic tightrope walk between likeable and loathsome leaves the audience loyalties to wander and shift as the story progresses, with Gawain's quest leading him to a travelling con merchant (Barry Keoghan); Edgerton's gregarious lord and his very familiar-looking wife – also played by Vikander – and cinema's most doom-mongering talking fox since Antichrist.
Visually, Lowery has constructed a gorgeous, earthy movie which knows exactly when to tend towards the psychedelic. For the most part, Andrew Droz Palermo's cinematography feels verdant and natural, with light hitting the landscapes just right to make them feel at once beautiful and terrifying. Daniel Hart's score, meanwhile, is as comfortable with bursts of choral singing as it is with distorted, almost sci-fi bursts of electronic strangeness. This all contributes to a movie which manages to feel irresistibly of the moment as well as classical, with a sly, winking postmodernism that is never overt or clunky but has clearly been woven into every frame.
Like many of Lowery's works, it has a tendency to meander and there are sequences which feel perfunctory and a little too opaque for their own good. Scholars have puzzled for years about the true meaning of the original poem and Lowery certainly doesn't have any answers here, though there are plenty of meaty themes at play. Certainly, his take on the title character is explicitly a creature of trees and nature, with Vikander delivering a monologue about the folly of humanity attempting to stack itself up against the might of the planet itself. Patel's character is obsessed by status and spotlight, but this feels unimportant when compared to the sheer power of the natural world.
In the final act, Lowery shuffles his deck for a final flourish which is wildly open to interpretation. The images are arresting and memorable, even if the thesis is somewhat unfocused, and Patel delivers yet another bona fide leading man turn as he ascends to the upper echelon of Hollywood stars. The fact he can do both the muddy moral complexity of The Green Knight and the joyous class comedy of The Personal History of David Copperfield within just a year or two showcases true, exceptional range which few actors could muster. Except perhaps David Beckham, of course. Just keep the prosthetic noses coming.
The Green Knight is out in select cinemas and Amazon Prime now!