by Sarah Cook
If there's something strange, in your neighbourhood, who you gonna call?

Not the Quinn-Goldbergs! Because they are probably behind it.

That's right, it is time to say "hello you" again to our favourite dysfunctional family  as series three of You is finally available to watch. The thrilling trashy television show revolving around stalker-murderer Joe Goldberg is the unexpected hit we've all somehow grown to love. Now married to his seeming soulmate (and equally murderous) Love and with their brand-new child Henry, can Joe survive the suburbs? Most importantly, can the couple survive each other?

It is always hilarious when Joe Goldberg mentions the books the show is referencing at the beginning of the series. In this case, series three draws heavily from Gone Girl. Episode one opens with the same familiarity as before: Joe becomes fixated on another women, their neighbour in the quiet Californian town of Madre Linda, after Love turned out to be just as sociopathic as he was at the end of season two. However, by the end of the opening act, the show has turned into calamitous and brilliant suburban nightmare. And a missing woman, salacious gossip mongers, villainous spouses, and a librarian start to pluck at the delicate thread holding the Quinn-Goldberg family together.
Penn Badgley's performance here is great, as always. However, he is easily outshone by Victoria Pedretti and the fresh faces that comes into Joe's prevue. It is no secret that we adore Victoria Pedretti, and her command of Love is great. She successfully does what Badgley has spent three seasons trying, and failing, to do – she makes you feel and empathize for a murderer. That's not to say we don't enjoy the romp-y moments where Love becomes this towering villainess who impulsively kills when she and her loved ones are threatened. Reminiscent of Katherine Turner in Serial Mom and Rosamand Pike in the aforementioned film adaptation of Gone Girl, Pedretti has you in the palm of her hand.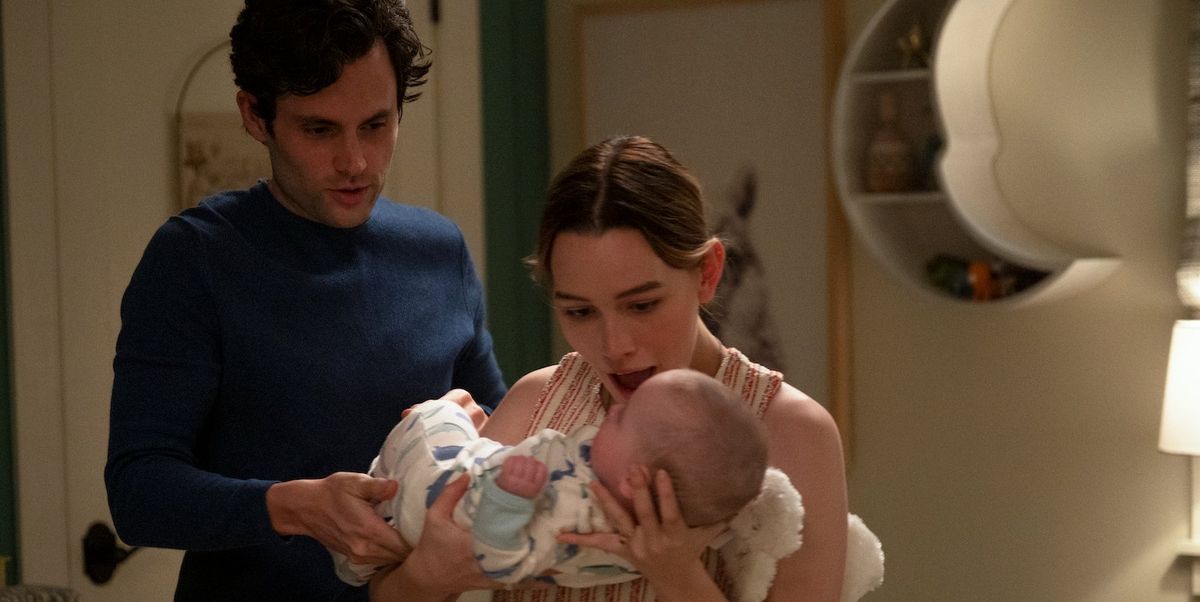 Shalita Grant and Travis Van Winkle are a fantastic double act here as concerned neighbours Shelia and Cary Grant. They are absolutely embellished stereotypes of suburbanite bloggers and parents. They start off as snooty wealthy people who prod and poke at you with their sugar-free, filter-filled parenting. Yet there are dark, devilish secrets about the pair that, once opened, you cannot help but adore their somewhat mania.

Tati Gabrielle as librarian Marianne is also a brilliant addition here and it is only natural that Joe finds himself caught in her allure.

Without giving too much of the plot away, series three is a tantalising affair with so much drama and thrills. The steam it builds in the beginning couple of episodes is lost as Joe slips back into his usual fare. Like, of course, we expect it from a serial stalker – we can't expect him to be simply covering up murders without dipping into the obsession pool.

The flashbacks also get tiresome because we get it – Joe had a tough childhood that lent itself to his troubling behaviour. Sometimes you can be hit one too many times with a stick and it is almost like the show wants you to sympathize with Joe. However, it is a misplaced energy. There is only so much you can take before we are excusing Joe and his killing ways. Plus, despite there being several moments inside Love's head – and yes, there is her narcissistic mother – she barely gets the same treatment in the script. It woefully gives her this element of crazy ex-girlfriend turned murderer against Joe's poor-me stalker act.

However, as the over-the-top Conrads and the perfect Pedretti combine in the final episodes, there's enough juice in You to keep us invested.  

Ending, again, on a cliff-hanger, and with a confirmed season four, it'll be interesting to see how this show twists its format once more to keep us hooked.
You is available on Netflix