"In these days of dithering,  the certainty in which she took her love  and husband and commitment to her marriage was inspiring." says a poised and softly spoken Rosamund Pike about portraying one half of the real life couple – Ruth Williams and Seretse Khama that take centre stage of BFI London Film Festival opener A United Kingdom.
I'm starting off this article on that sentiment because it really captures the soul of Amma Asante's stunning historical drama – the beguiling spirit of a couple who defied their landscapes, both political and social, because they fiercely loved one another.
Sat in The Mayfair Hotel as the hours tick by, the cast and director of A United Kingdom settle down to talk about  this year's romantic romp. And, very much like the film, it all begins with David Oyelowo.
"The way it happened is in 2010 I was doing a film called 96 minutes in Atlanta," says the leading star who has won critical acclaim for previous roles in Selma, Lincoln, and The Last King of Scotland. He now leads a triumphant film as producer star.
"The producers Charlie Mason and Justin Michael Trautmann had a book by Susan Williams called Colour Bar which was about Seretse and Ruth Williams and the image on the cover of the book arrested me." Oyeolowo continues, "This young man in a trilby and trench coat alongside this beautiful woman next to him, I read the book and it became an obsession with which I dragged anyone and everyone I loved working with and who I felt talented with and who'd share my passion. That constitutes a lot of people who'd helping make the film."
Finding the right director is crucial in bringing this extraordinary tale to life. Belle director Amma Asante took the reigns and gloriously so. Like Belle, A United Kingdom is balanced between the social political climate and the passionate love between two people and the difficulty of the harmonisation ran throughout the production. Speaking of this, the director explains; "It was a constant battle throughout process and throughout the edit we were balancing those two things right the way through to the final cut and it was very very difficult, even when you've finished you can't help but ask yourself the question "Is this balance right?" I think it is, for me; the love story allows you to bring the intimacy to the story and the backdrop for me should always be political to me or universal to me in a big  world away and that's what those two lands and A United Kingdom bring to me."
The other crucial cog in developing this film was to find an actress as indelible as Ruth and Oscar nominated Rosamund Pike came as a perfect fit. Though a far cry from her Amazing Amy performance, Pike completely resonated with the real life Williams and her powerful story. "I find her spirit so gorgeous and David wrote to me he first sent me these photos taken by a really good photographer – Margaret White they had undertaken their new life in Botswana together. There were these close ups of these faces and I opened up those photos before I looked at the script and I was moved to tears by them in an immediate and strange way. You saw the love underneath and saw what had cost them." Rosamund enthuses. "I read the script and Ruth has tremendous pluck, which is something we don't talk about anymore."
To the right of the sublime Pike, the witty Jack Davenport speaks about his antagonistic role as British official Alistair Canning, complicating the couple's life in Seretse's homeland. Yet despite trotting on in one scene in an-all white feathered garb (we Brits have always loved a posh show,) Canning and his wife Lady Lilly Canning (played by Jessica Oyelowo) are not pantomime villains: "When I first read the script, you are absolutely right, there's a danger the people who embody an empire could be a bit moustached twirling well – hopefully not in your case," laughs Davenport gesturing to Jessica beside him. "Because the story is true, I personally had no qualms about having a go at this character as there's something delicious about it. This is not wildly approximate version of how the Empire behaved – it was actually this appalling.  I hope you do notice that both of our characters are unsure because your right, they are aware that there are changes in the air but at the same time they are dealing with a manual that's increasingly out of date. If this was a fictional story, there'd be a danger that this side of the story would be unbelievable but no one made this up, this actually happened."
"Like Jack said, they are absolutely real and they believed in etiquette and some certain standard." Continues Jessica,  who has followed this script for a long time after her husband David picked up the project. Yet after being so enraptured with tale of Ruth and Seretse, stepping into the shoes an opposing member must've been tricky. "You have to put yourself in their shoes as the world they knew was crumbling beneath them. As an actor you have to embody someone else's believe system no matter how far away from your own it is, Lady Canning believed what she believed and it was real and true for these people and their whole life was threatened by Ruth and Seretse."

Also on the opposite bench to progress is office boy Rufus Lancaster who is played by Tom Felton, and yes, there were already allusions to his snivelling famed role as Draco Malfoy. While laughing off the similarities, Felton too agrees with Jack and Jessica. "I don't see these people as villains at all they were all by-products of what was believed at the time! They aren't the nicest of people, possibly, but really it's fear that they are working out of. Generation of hard work from ancestors being turned on its head."
Of course, Ruth and Seretse weren't completely opposed and in sister Muriel, played by Downton Abbey's Laura Carmichael. Muriel was actually the first person to introduce the defining pair together and the pleasant woman is captured well by the young actress.  "I was talking to my friend about it earlier today that it reminds me of my grandmother," Carmichael notes. "People who lived through the war had this sort of bravery and it surprised their parents and that's what you see with Ruth and her parents and that ability to love and not worry about what comes later. Muriel she's a bit more nervous and straight laced. But she adores her sister and she adores Seretse."
The story of the Khamas transcended two countries, two races, and two continents. For A United Kingdom and Amma Asante, it was vital for this to be reflected in the production process and the Botswana country was welcoming with the filming. "From my point of view, it was comforting them that the story was going to be told through the gaze of a woman of colour who looked like them. Everything I got – from the production period to when I was filming – is that this was a great story but an untold story. something we didn't know about till today so most of what I got was a kind relief that the story was going to be told." In the centre of the panel, Asante talks eloquently about the African country so inviting t o this story. "Of course, there was a curiosity how they'd be reflected on screen. Telling them why we'd chosen first and having the DNA of Botwasana ran throughout. It helped we went scouting and they could see us for real, the whites of our eyes."

Following on from this, David Oyelowo says, "What I found about shooting in Botswana, there was a generational divide and the older generation were excited about us shooting it. But one of the things that struck me was the younger generation didn't know much about Ruth or Seretse at all. My assistant, who was a black lady herself, was with me and the taxi driver looked at her and said "Oh, will you be playing Ruth?" I was so taken a back by that but their history is David Livingston. The by product of the Empire is that some of this is lost to them and that made us double our efforts to get this right."
The topic turned into what could be learned from the production which whimsically is answered by Jack Davenport: "In very high temperatures, if you have to wear a big hat, let someone else carry it for you.  That's it. "

"Heat probably has a lot to do with it." laughs Pike, musing on South Africa weather and arduous filming which, by the way, is caught so greatly you'd feel the oranges and vibrancy of the country was fake. "Bostwana is scorching that winds you when you get out of any air condition and your eyes stew in the boiling juices of your eyes and when you bite into a piece of fruit it's hot. I've just been filming in the heat again and I'm like "'Oh, I'm prepared for this.'"
"I remember Jessica's first day in Botswana," Asanta fondly remembers, "And Rosamund had been there quite a while and you think 'Oh god, how can I think in this? How can I be creative here?' Jessica arrived like 'Is this it?'  and we look across to Rosamund, who was in the hospital bed and eating watermelon, and she's done it – totally acclimatised."

"Whenever you can, you want to shoot in the place where the events took place  and contrasted against the London portion but they all add to the story and what the couple experienced themselves," responds David and the bleak character of London (in the best possible way) is truly juxtaposed against the heat soaked Botswana.
Though intelligent and almost regal in his answers, David Oyelowo has a quick drollness that has the audience in raptures of laughter at several points of the press conference. One highlight includes jokingly turning a question about diversity and BFI's Black Star launch (which David Oyelowo is conferencing at the end of this month) to Tom Felton. There's small banter before Oyelowo answers; "Look, all we're seeing here in A United Kingdom was a reflection of the country we lived in and some of that remains today. Amma directing this film isn't special. It's special to me artistically but it shouldn't be special that a woman is directing. Woman contribute to 50% of the population and they are not a minority but here we are, we are still in that place. My hope is that when they see this film they will see themselves and they'll see us and people of African descent history and why are are proud to call ourselves British and Africans and with time it'll just become less and less special. Diversity remains an issue, What I'm so proud of is that (studio) Pathe have been doing diversity – Selma, Mandela, Pride, Suffragette. When it comes to these topics and how to change it, there are those who are going to talk about it and those who are going to do it."

Agreeing, Asante says: "It's about the others who come and through their weight behind stories like these."
It's not just the initial production and the creation of POC and female led films. Rosamund Pike points out that the way movies are received and marketed are also heavily misleading. "Isn't it true – correct me if I'm wrong  – it (A United Kingdom) isn't put in a bracket with love stories it's put in a bracket with 12 Years a Slave and Mandela…"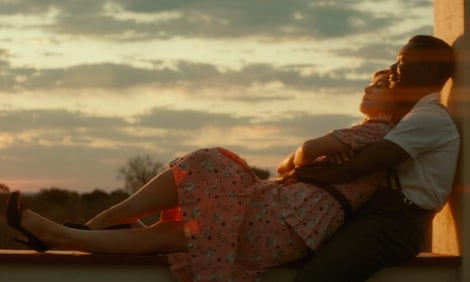 "You are not a wrong" echoes Asante.
"The goal would be to have this seen in the canon of love stories and the protagonists colour of the skin irrelevant," there's a moment of pause as Pike remembers, "I know that's part of the story but the genre should be put together with  films that are more like it in subject matter."
"Black female directors were under 1%" Amma reels off, continuing to highlight how big the gap is within the industry. "It's now 1.4%. We are not a minority – as women. We are 50%. We are large part of getting men to the cinema and that's films with white men. Women directors won't always director women stories and seeing the world through women's gaze shouldn't be a weird thing when we are 50% of the population. It's definitely getting better but it's not good." (To which she is met with a round of applause.)
Moving to the heart and spirit of the story, the chemistry between Rosamund Pike and David Oyelowo is truly phenomenal as they manage to sincerely capture the lightness within the dark. "I think that's something you can't legislate for – how well you'll get on and playing husband and wife." There's a slight beat. "I have to be so careful  my wife is at the other end of the table…"
With that Jessica pretends to glare before dissolving into laughter. After, David captures why the actors were drawn to this tale and how that helped replicate the staunch and unwavering relationship between Wilson and Khama. "It began to me at Rosamund's reaction to the photographs I sent her. That was the beginning of knowing we were on the same page.  Our passion, our respect, our desire came together. The lighthearted-ness came from the respect. A lot of times on films you see lust but you don't see love. I know what that relationship is with Jessica and we've been married for 18 years and four lovely children. Being in love is the most exhilarating feeling and what drew me to the story – it was romantic, powerful, and unashamed.

"It's a three dimensional life that we know. Through the worst of times, if that relationship is real, you have to laugh," Asante says, echoing the sheer crux of the film and what makes A United Kingdom so wonderful.

"Real love of music is what connected them," enthuses Pike picking up on several scenes throughout their relationship where jazz and life caught them at the most difficult moments. "And they found that you can convert something serious into something to laugh about."
Jack Davenport concurs saying: "As the representative in the film of someone who is trying to trample over any light moments, I may be being facetious, but I think as audiences we get quite tired of the trope of 'love conquers all' to the point where you're like "does it, does it really?"
Here's the thing: "Yeah it does." Cause they did!"

Before they are whisked away to prepare for a red carpet filled with adoring fans and after learning that David interrupted Asama's house move ("You thank me now," scoffs Oyelowo), Asante leaves a resonating note:  "The couple are the image of the film. From Susan Williams' incredible book to now. There's so much to take in and absorb and balance this love story with the politics. There's not one scene where they aren't related to in some way. It was a very important story to tell about love: a man's love for his country and people, Ruth falling in love with the country, family, and most importantly, the pair. Everything comes through in this prism."
---
A United Kingdom will come to UK cinemas later this year