First off, whether you think clowns are scary or not, clowns are undoubtedly a little bit creepy. A bizarre tradition for entertaining children passed down through the ages that can go from cute and fluffy to insanely petrifying in a beat; albeit the scary part here is more real than you will ever see in any Stephen King adaptation. It's not on the exterior, it's what's happening underneath that is both heartbreaking and frightening. Joker takes a well know, done to death DC character to an insanely dark level.
A near unrecognizable Phoenix parades on the screen. His gaunt face and thin torso contorts; his body laughing in a supernatural manner reflecting the inner turmoil and thirst for revenge against the system that betrayed him so. It's here we realise that this film is designed to make you feel uneasy. An eye-opening challenge to the system, illustrating just how grotesque people can truly to be to one another. As we delve into a character that has been portrayed many a time, in equally entertaining ways, this backstory of the so-called 'Joker' is more sinister and truer than we have ever seen it before. Not only does it tackle mental health in an alarmingly raw yet compelling manner, the reflection on society conveyed is somewhat scarily recognisable.
Phoenix's Joker is very different to the glorified, gangster that was Jared Leto. Picturesque, psychedelic scenes emerge from the depths of this man's psyche creating an eerily beautiful perception of Arthur Fleck, so splendid that you will glare in wonder whilst shivers travel through your fingertips. There is no end to this man's madness. Desperate to be a stand-up comic, the effects of parental neglect and abuse dwell beneath the performer he so desires to be, making way for psychotic behavior to rule his mind body and soul. Let's face it, JP nailed it – he is terrifyingly electric. To carry this role without the spar of Gotham's Batman or Riddler is a feat of sheer genius – it's all him, and every second of screen time is a mini performance in itself.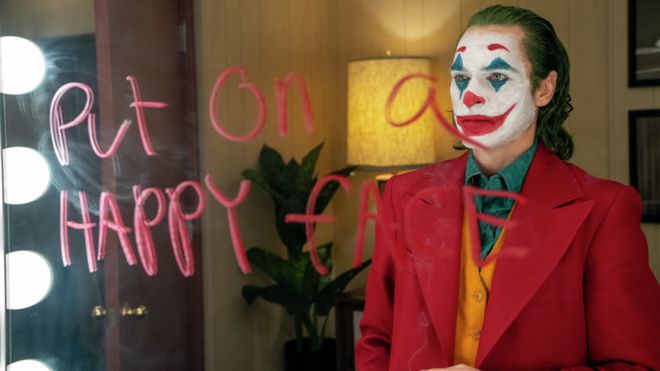 This single man's urge to take control of the world, as he has failed to do so of his own body and mind is frightening relatable in this current climate. You only have to look at the news and see it's happening everywhere. Yet, as mesmerizing as this feature may be, the viewer is somewhat forced to choose between what's right and what's wrong, good verses evil if you will – the system or the way of the masses. Such conflict of hiding behind a mask, takes you straight to 'Anonymous' and other activist groups that perhaps didn't have anyone's best interests to heart and what Joker does here will leave you with a sour taste in your mouth, whilst routing for him. Whether that's right or wrong don't loose hold of your morals.
Todd Phillips does a stellar job of making sure we get the full picture. From hard to witness scenes of aggressive outburst, to murder in cold blood, to outrageous comedy; the camera is there in the thick of it. The soundtrack transports us seamlessly into his chaotic mind and suddenly it all becomes clear as to why this man is doing why he is doing. Let this consume you and digest it with every ounce of infectious laughter, sadness and sheer brilliance.
Beware, you will need something light hearted afterwards, like a standup comedy or a slapstick sketch to get the smile back on your face. This is the film this iconic character has been waiting for and by George, 'Don't forget to smile' and watch out for the supersize rats!
---
Joker is out on DVD, Digital, and Blu-ray now!