Rocks was easily my favourite film of last year's festival circuit.
As soon as it finished, I couldn't wait to see it again – it truly felt more experience than film. Such is it's electrically visceral emotional potency, with a vitality and quiet rage that lingers long after watching. Like nearly every film of this year, it was pushed back from its initial April release date. In many ways, however, this postponement has inadvertently added to the film's necessity. After a summer that featured our government attempting to take away free school meals for young people across the country (prevented by an incredible display by footballer Marcus Rashford) and succeeding in their restricting free transport for under 18s in London; Rocks is no longer a must-watch. It's a need-watch.
Diected by Sara Gavron, Rocks is set in East London, and tells the story of Shola – Rocks to her loved ones – (Bukky Bakray). She's on the cusp of picking her GCSEs with great ambitions for her future. But, returning home from school one day with her little brother Emmanuel (D'angelou Osei Kissiedu) she finds her mother has abandoned them both. Best friend Sumaya (Kosar Ali) is the only one who knows what's going on, as Rocks does all she can to look after herself and her little brother.
I've taught in East London for seven years and I can say wholeheartedly – without any hesitation or reservation – just how accurate this film is. I've worked with young people who have endured more trauma in their few years than most of us will face in our entire lives – experiencing unthinkable and unspeakable things – and I cannot tell you how fantastic it is to see such a story arc being presented with such care, though and honesty.
These are young women who carry so much weight on their shoulders, living under a government that seems hopelessly oblivious or maliciously disinterested in supporting them. Aside from her little brother and the support of her best friend, Rocks is alone In what she is experiencing. She's forced to make all manner of decisions and worry about things no teen should ever have to contemplate when the social structures and institutions that should be there to support her are simply unable to do so. It's soul shattering, unbearably painful and bitterly real.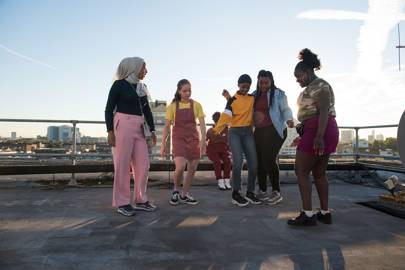 But also, just as with real life, Rocks also presents the lightness and hope that sometimes comes with these dark times – with genuine hilarity. The dialogue is simply superb, the result of constant workshopping between cast and crew, it's so real and believable. The young cast, made up of nonprofessional actors, are extraordinarily good, immensely believable and captivating as they render the rhythms of real life. I've taught and continue to teach girls just like Rocks and her friends, and I promise you they are just as funny and as brilliant as they are here. This is truly representation at its finest, the best portrayal of young women living in London that has ever been seen on the big screen.  Finally, we get to see them in their joyous and riotous glory.
A spellbinding tribute to sisterhood, Rocks truly feels like a once in a generation kind of film, instantly earning a place in the pantheon of British cinema. It's a weighty film told with an incredible lightness of touch, with unparalleled depth and heart. It's raw, authentic and I implore you to watch it.
---
Rocks is out in cinemas now!