I know what you're thinking: How can anyone sluice down over forty decades of over fifty films into a compact five movie list? True, the dazzling white teethed Cruise has been the epitome of Hollywood stardom for years and years, producing countless amounts of movies, and running in a hell of a lot of them.
I also know what you are thinking: Here we go, another list of Rain Man, Top Gun, and Days of Thunder. But that is where you are WRONG! Because in celebration of the release of yet another Mission: Impossible film, we're going to try an attempt a list of different movies that may not initially spring to mind when you think of Cruise.
But then again…if you are film lover, this may be the movies you spring to anyway…
Collateral (2004)

White-haired and stoic, Tom Cruise took the role of Vincent, a hired hitman who uses a taxi driver (Jamie Foxx) to cart him around, committing his killings. Cruise had rarely been a villain in films (more on that later) and his turn as the brutal, and coldly cool killer that has no qualms bringing in an innocent driver into the fold. It's a chilling performance set against the seedy backdrop of Los Angeles.
Eyes Wide Shut (1999)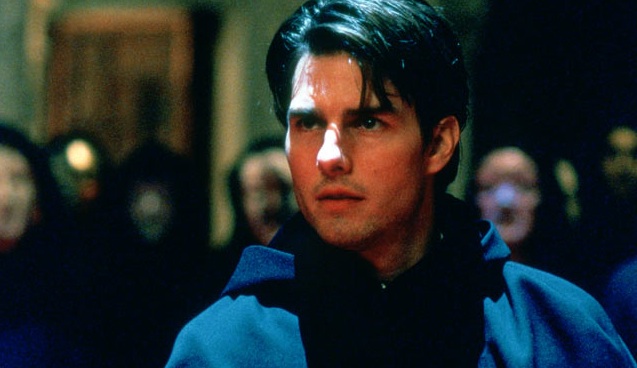 One of Kubrick's last films and such a brilliant drama film. The movie follows Dr Bill Harford as he embarks on an erotic and sexual night-long adventure after he finds out his wife is having an affair. Pairing Nicole Kidman and Tom Cruise together, the film is an intense and layered movie about humans and their relations to love and sex. The performances are intricate against a beautiful backdrop and an alluring story. It is definitely one of the best films that Cruise has ever done.
Edge of Tomorrow (2014)
While it may be a joke that Cruise has become Hollywood's running man lately, there is something genuinely enjoyable about his work in Edge of Tomorrow. Why? Because his character sucks. Not in a "it's a bad character," but in the sense that he's a character who has no idea what he is doing. Playing public relations officer in a war against aliens, trapped in a time-loop dying over and over again, Cruise's performance is about having to survive and figure out why he is caught up in this. All with the help of the ultimate heroine…Emily Blunt.
Magnolia (1999)

Paul Thomas Anderson is one of our greatest filmmakers. He is able to move audiences with intense art and craft some impossibly brilliant movies. From Boogie Nights to Phantom Thread, his work are masterpieces and any actor who happens to be a part of them. Earning Cruise an Academy Award nomination for Best Supporting Actor, Cruise played a misogynistic public speaker tackling his issues with his estranged father. In a nuanced performance, Cruise reminded us of what a spectacular character actor he could be.
Interview with a Vampire (1994)
On a personal note, this is my ultimate favourite Tom Cruise performance. Taking on Anne Rice's infamous and dark vampire Lestat, Cruise transformed himself to a blood addicted animal all with the camp air of 1791. In our cinematic world where the actor has turned into a one note action-star playing pretty much the same character, it's intriguing to see him play the beguiling vampire that attracts people into his murderous frenzy.
BONUS –  
---
Mission: Impossible – Fallout is out in cinemas today!