According to Ganeshaspeaks.com, a website I had otherwise never heard of, those born under the star sign of Aquarius have the positive attributes of truthfulness, curiosity, justice, an affectionate personality, frankness and imagination. I don't know what star sign Clara (Sonia Braga), the hero of Kleber Mendonça Filho's sophomore feature, Aquarius, was born under but she has many of these qualities. If I didn't know better, I would say that the astoundingly talented Mendonça Filho had taken a sneaky peek at the definition of an Aquarius before naming his film and situating his sixty-five year old protagonist in a near empty apartment block of that name.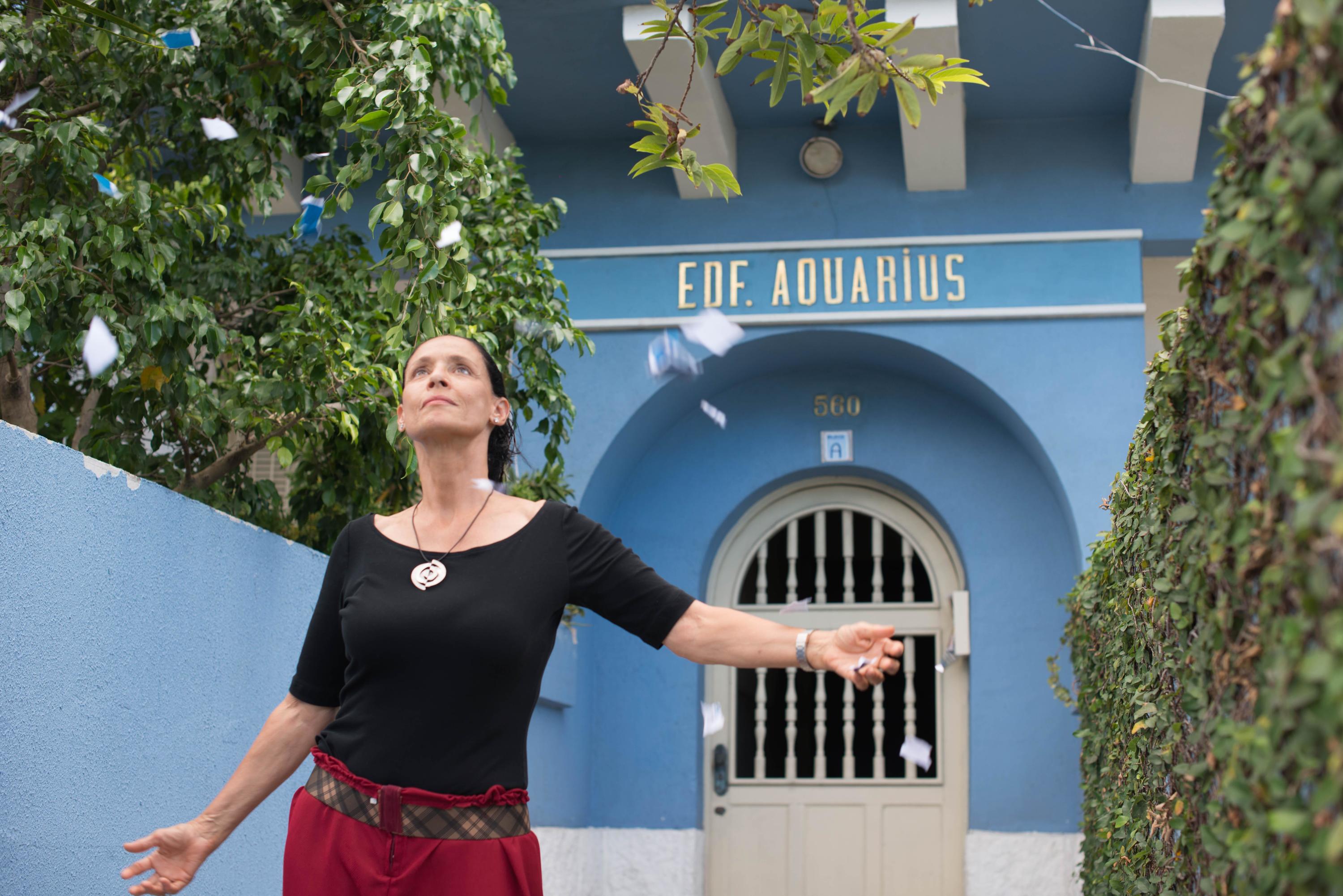 Isabelle Huppert wasn't the only older actress who was robbed at this year's American Academy Awards, Braga, who is magnificent in the movie, brave – at one point photographed with only one breast – spirited and plum right, wasn't even invited to the party with zero nominations for her sterling work. At least she didn't have to put up with Oscar host Jimmy Kimmel's tedious jibes at Matt Damon. Matt Damon! I imagine Braga sat at home, opened up a bottle of wine and listened to music, just like her character might.
The log line of Aquarius is 'a widowed music critic makes unpleasant discoveries when she pits herself against a developer who wants to move her out of an otherwise empty apartment block in Recife, Brazil'. This doesn't really do justice to the film, which I must warn you, has a leisurely pace and runs at 146 minutes. Not that this reviewer minded – you drink good wines slowly, savouring every drop.
We first meet Clara as a young woman in 1980 in an exuberant mood, travelling in a car with friends on a beach. She is on her way to a party for an older (female) relation. Clara has just had a mastectomy – she beat her cancer – but this is never mentioned. The party scene culminates with the birthday relative paying tribute to her lover. Old people tell the truth because there is no reason to hide.
In the first of three chapters – Mendonça Filho loves chapter headings – we meet the present day Clara. Her former neighbours have all accepted offers to move. She is the only resident of the apartment block near Recife Beach called Aquarius. Once she leaves, the developer can tear it down and replace it with a modern building. Clara is standing in the way of progress, but she has a right to her home. It is where her memories come to life. At one point, the camera pans around a room and pauses to take in a chest of drawers. Mendonça Filho smash-cuts to the young Clara having sex whilst she is seated on said drawers. Halcyon days – and, of course, symbolic!
We see Clara socialise and being taken home by a man her age. But she doesn't want a replacement for her late husband. The tension is: what will make her move? Is she in a state of crisis?
The developer goes to insidious lengths to persuade Clara that Aquarius is not the place for her, at one point allowing the empty apartment above hers to be used for a sex party. In the interest of consumer advice, it is pretty graphic. Clara's response perfectly sums up her character. Rather than call the police, she telephones for a gigolo.
Now I know what you're thinking: what sort of film is this for Mother's Day? If you're reading this review after 26 March, well, probably not. But our mothers are sensual, complex mysterious people who don't accept that they will one day rely on social care. This film makes that point perfectly.
21st Century Brazilian cinema is associated with favela dramas like City of God or Elite Squad or the contemplative character studies offered by Walter Salles before he went to Hollywood or the social studies of Anna Muylaert whose The Second Mother was one of my favourite films of 2015. (Her follow-up, Don't Call Me Son, about a teenage boy who likes to wear dresses, is still awaiting a UK release.) Mendonça Filho, a former film critic, offers something else. His films are interested in the unsaid, what we don't see, and how characters live rather than how they cope.
Aquarius isn't a generic drama about the underdog taking on the big corporation or a transformative year about a character struggling with a trauma or flaw. It is about living; how we might live when we are sixty-five, with all the ravages of experience. It is a movie that re-orientates what you expect from cinema. You look at Clara and think: 'I want to be like her.'
---
Aquarius opens on March 24th