Summer has been and gone– sunshine, drinks in the park and of course festivals loom over as excitement and smiles spread across faces from ear to ear. For most of us music is a cathartic release; a form of escapism to shut the real world up for a bit and for rebel of a teen Mia it's exactly that. As part of the East End Film Festival earlier this year, with a general release this Friday, director Bryn Higgins teams up with writer Oliver Veysey to bring us a pumping story of beats, happiness and above all else overcoming the hardships life throws at us.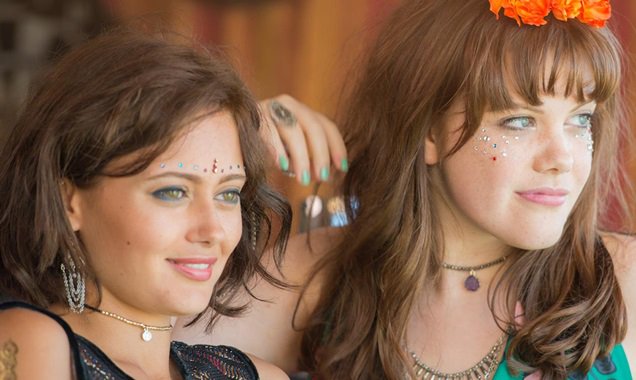 School starts in a week and after losing her mother to cancer Mia (Ella Purnell) has taken to ignoring her father, drinking copious amounts and well not really caring about anything. Best friend Natalie (Georgie Henley) helps her to some extent but what she really needs is to let go of all of her anger and bring some normality back to her life. Cut to the fluffy haired, guitar playing likeable Heath (Edward Bluemel) who seems slightly more together than Mia apart from his slightly troubled mother he has to keep a constant eye on and the fact he is a repeat offender on probation. Unable to miss another shift at work and despite his 'straight-edge, clean-living' friend Leon (Jordan Stephens) trying to talk him into going to the 'Isle of Sounds' as a musical recluse Kurtz (Jason Flemyng) is rumoured to be performing after 12 years out of the industry it's still a no from Heath. That is until Mia steals his bike and makes her way to the festival on it.
Ultimately, this is every young singers dream to play to a packed tent at such a big festival. Managing to score VIP tickets and literally letting go, having the time of their lives is the medicine they all needed – especially the parents. This musically inspired tale becomes an important journey for all involved, including the parents. Irritated that they have run away, This is England's Jo Hartley as the hippy Libby goes on a road trip with Mia's concerned Dad Mack (Nigel Lindsay) offering lots of laughs along the way. As they deal with thoughts that plague their minds, director Higgins gives us serene scenes in amidst the manic music tents offering a real sense of understanding when it comes to just taking that one step back in order to truly advance forward in life. Our young cast hold their own here and perhaps if this doesn't land them other roles perhaps it might land them a record deal.
Access All Areas brings festival vibes and warmth, not to mention a little performance by the one and only The Who! With a happy ending of young love and hope, this will undoubtedly leave you with the fuzzies, a tap in your foot and the uncontrollable urge of wanting to grab your laptop to book up the next festival you see – minus the vomit and walking on hot coals (unless that's your thing).
---
Access All Areas is out Friday!