If you are anything like me, the Q4 of the year is the most exciting period of the calendar in terms of release dates. This is when the studios are ready to bring out the big guns for their Oscar campaigns, when the festivals have previewed future films and awards buzz is now real. The Academy Awards are due to showcase tomorrow hwhcih means we're in hot anticipation.
But, whilst is interesting to speculate who will win this year's golden statues, today I propose a different exercise: if the ceremony were to happen next week, who would come out on top? More often than not, films released outside the specific "awards' season" window get overlooked by the Academy (and everyone else, really…) when it comes to consideration. This is, perhaps, due to the fact that the best films of the year all come out around this time of the year, but 2017 has been a little different as some films have been creating a buzz since as far as January! So, with that in mind, welcome to the WMMOW Awards! (working title…)
First, a bit of house cleaning, I'll be following the Academy's rules, so my consideration are of films that were released in US cinemas between January 1st and October 15th 2017. Secondly, whilst I consider myself to have seen a reasonable amount of films this year, I haven't seen all the films this year. Thirdly, whilst I try to have an objective view towards how films are made, they are, to their core, pieces of art that affect different people in different ways so this is, ultimately, a personal article. Now that we've done all the paperwork, let's crack on!
Get Out – Universal Pictures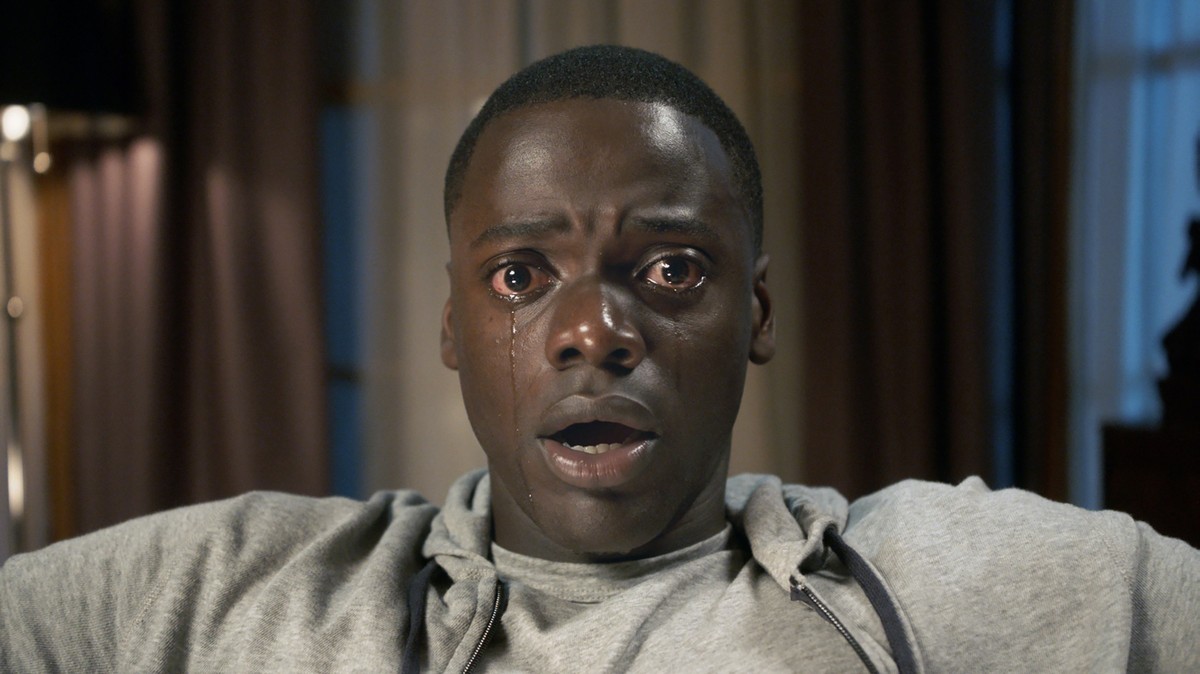 Director: Jordan Peele
Staring: Daniel Kaluya, Allison Williams, Lil Rel Howery
Producers: Sean McKittrick, Jason Blumenthal,  Edward Harry.  Hamm Jr.
I'm bringing in the big guns now. Where do you start with Get Out? Let's just go ahead and agree that it is one if not the most successful horror film of the year. This film has universal critical acclaim unlike any other film this year; it made $253.5 million on a $4.5 million budget, it addressed important issues regarding slavery, racism and entitlement; and did all of this in a horror film directed by a first time director. The genius of Get Out is that it's such a human film populated with everyday people. The villains are not neo-nazis, or Confederacy supporters, the villains are upper middle class white people who "would have voted for Obama for a third term", they are probably people who feel horrified by the cases of police brutality and, hell, they are likely to be people who put Get Out on their list for Oscar nominations. That is the genius of this film, it makes you aware that, most likely, however unintentionally, nice people can have unspeakable behaviour.
Oscar Nomination?  Get Out premiered back in February and hasn't really left the awards conversation since, leading to many different nominations across the awards boards. This is important because it means the film is still in people's minds and I believe it has what it takes to get both a Best Feature and Best Director nomination. We'll wait and see.
Detroit – Annapurna Pictures
Director: Kathryn Bigelow
Staring: John Boyega, Will Poulter, Algee Smith
Producers: Kathryn Bigelow, ark Boal, Matthew Ellison, Colin Wilson
I saw Detroit on its last week in cinemas. I was the only person on the screen and man was this a hard watch. Firstly, I didn't know what this film was about as I was completely oblivious to the Algiers Motel Incident, so I had no idea how brutal the story was and definitely was not prepared for how cold and raw Kathryn Bigelow's directing was going to be. Nothing is sugar-coated in this film and the camera lingers on it for a lot more that it feels comfortable to the viewers. Detroit takes its time to set the scene and prepare you to the claustrophobic and unnerving sequences inside the motel, all of a sudden you are transported and you feel like you might not be as safe as you thought you were. This is due to the fact that everything in in sync, the set design, directing and cinematography all try to give you the sense of no way out and the performances are so sincere that at times it's hard not to remember you aren't watching a documentary and that these are actors and not the real people from the Incident.
Oscar nomination? Detroit came out at a strange time of the year for this type of film. Had it came out in September/October, I think a nomination would be pretty much guaranteed. As it stands, I doubt it will stay in the conversations. I wouldn't, however, look past a Best Actor in a Supporting Role nomination for Algee Smith.
Split – Universal Pictures
Director: M. Night Shyamalan
Staring: James McAvoy, Anya Taylor-Joy, Betty Buckley
Producers: M. Night Shyamalan, Jason Blum, Marc Bienstock
During its marketing campaign, Split was a film everyone hoped would put M. Night Shyamalan back on track. After all, his previous film, The Visit, gave the idea that the director's days of The Last Airbender or After Earth could be past him. What no one could've hoped for was how good Split was going to be. With top notch performances by Anya Taylor-Joy and James McAvoy, M.Night Shyamalan directed a film that delves into the psychology of its two leads, whilst never loosing track of the endgame. Split focuses all his time to the upcoming doom of "The Beast", so much so that anyone familiar with Shyamalan's previous work is expecting that the twist to be connected to this monster. But there isn't a twist, there's no misleading, The Beast is real and terrifying. The absence of the twist is the twist…or so we thought because, surprise surprise, Bruce Willis is here and this is a sequel to Unbreakable, see you in 2019! M. Night Shyamalan once again proves that he is a great visionary, able to explore filmmaking tropes unlike anyone, this time he twisted the Cinematic Universe started by Marvel and made it his own. But the important thing is that Split works as a film on its own, if you take that very last scene, you're still left with incredible story, performances and a really good feature.
Oscar Nomination? Once again, it will suffer by how early it was released. If anything I see James McAvoy getting a nomination, but it's really unlikely despite the fact that it will no doubt be one of the top five performances of the year.
Logan– 20th Century Fox
Director: James Mangold
Staring: Hugh Jackman, Patrick Stewart, Dafne Keen
Producers: Hutch Parker, Simon Kinberg, Lauren Shuler Donner
Despite Marvel and DC working towards building a consistent Cinematic Universe, Fox has always taken a much more relaxed approach and worked with one single motto in mind: "Cannon? What cannon?". And fair enough, when they tried to get an X-Men Universe on the screen we got X-Men Origins: Wolverine. Since then the studio has been much more interested in delivering somewhat solo stories loosely connected to their original three films. And if Logan is any indication, they are making the right choices. Logan gives us a Wolverine like we've never seen before, both thematically and visually. Yes, there's blood and gore and dismemberments, but that isn't really what's interesting. Perhaps more than any modern superhero film, Logan is a character piece. If you place this story in any other universe, even our own, and you take away the superpowers, it still works and is just as powerful. Logan transcends the superhero genre better than any other film, even the apparently untouchable The Dark Knight. It's a film not worried with franchise building or, even, box office revenue. Logan is worried with one thing: deliver a good story and be a good film. And I think it more than succeeds.
Oscar Nomination: Like Wonder Woman, Logan will suffer from the superhero curse and I full heartedly believe that if this is the year a superhero film gets nominated for Best Picture, then the Amazonian will take the honour, despite Logan being a better film.
Dunkirk –  Warner Bros. Pictures
Director: Christopher Nolan
Staring: Fionn Whitehead, Tom Glynn-Carney, Jack Lowden
Producers: Emma Thomas, Christopher Nolan
The production design, the sound, the music, the storytelling, the directing, there's so much of Dunkirk falling on the "incredible" category. Christopher Nolan's telling of Operation Dynamo appears, at first, to be a much more streamlined story than something like Memento or Interstellar, but the director is able to give it his own spin and add his much loved non-linear storytelling to a tale about a real life event. Dunkirk is an absolute beast of a film, where the whole ends up being more than the sum of all parts. This is also a film specifically designed for the big screen, providing a cinematic experience like no other film this year bar one, it will be interesting to see how it translates on the smaller screens.
Oscar Nomination? Honestly, if WB have decided to really back Dunkirk with a proper campaign, I can't see it not getting nominated. In my opinion, this is Christopher Nolan's best chance so far at getting the Best Director award as well. The film will be released for home media in December, which is undoubtedly a strategy to generate Oscar buzz.
Blade Runner 2049– Warner Bros. Pictures/Sony
Director: Denis Villeneuve
Staring: Ryan Gosling, Harrison Ford, Ana de Armas
Producers: Andrew A. Kosove, Broderick Johnson, Bud Yorkin, Cynthia Sikes Yorkin
This film was impossible. To decide to make a sequel to Blade Runner, a film which transformed itself from box office flop to cultural phenomenon, 35 years later is simply something that shouldn't work, especially no one was asking for a second entry in to the franchise. Somehow, this film not only works, it builds on what the first did so well and not only that, it stands tall on its how, asking important and relevant questions. The main characters are a human, a replicant and an A.I hologram, and the question "what makes a human, human" that Philip K. Dick asked in his original novel has never been more prominent and difficult to answer after watching 2049. And then there's Deakins' cinematography…to which I can only say, if you're not impressed after watching the Las Vegas sequence in this film, then nothing I can say will convince you that this is one of the best looking films ever made. Blade Runner 2049 has a lot to say about the society of 2017 and its future. A deeply impressive work, 35 years in the making.
Oscar Nomination? Box office will ultimately hurt 2049. Much like its predecessor, the sequel has, unsurprisingly, really, not made the amount of money you might expect with a film starring Ryan Gosling and directed by Denis Villeneuve. However, a nomination and win for Roger Deakins is almost certain and, in my opinion, Harrison Ford will take the Best Supporting Actor statue home.
---
What do you think?
Oscar Nominations are announced Tuesday 23rd January