You may not know of the murders committed in Perth, Australia in the 80s that Hounds of Love is loosely inspired by. However, there's a good chance your county has its own story of the crime. Heterosexual male/female couple abducting girls to rape, torture and kill. The Canadian Barbie and Ken killers, British House of Horrors, Hounds of Love captures a thoroughly fascinating crime. The car accident you pass and can't help but look at. An awful and inexcusable crime.
First time director and writer, Ben Young, has drawn together a minimalist suspense film of sadism and suburban horror.  The tension of this first time feature is palpable early on. From the wide, sweeping tracking shot as we follow one of the killers to bury their most recent victim, to the trusting teenager looking to score some pot on a sweltering Summer's evening.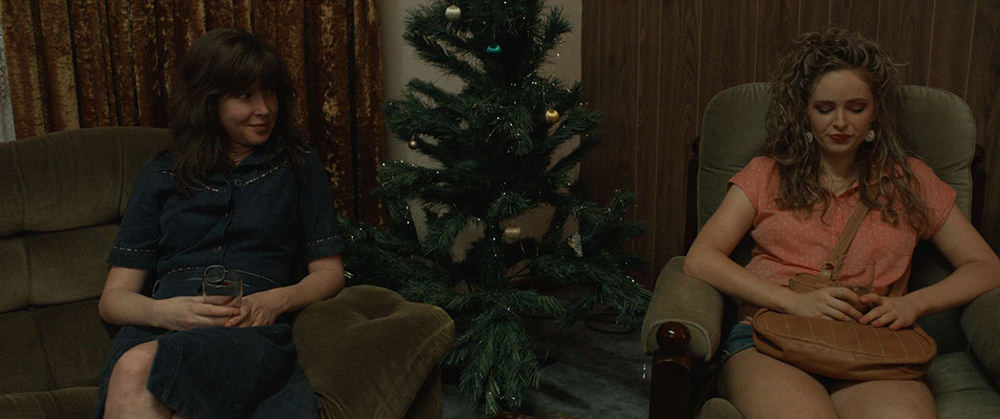 When a potential new victim, Vicki, is picked up by married couple, John & Evelyn, this becomes, essentially, a three person film. A solidly dependable supporting cast, including the revered Susie Porter, rallies around our leads.
Well known Aussie comic, Stephen Curry, perhaps best known for his larrikin roles in Australian classic, The Castle and a string of comedies, plays the manipulative rapist and killer, John. It's not only his dirty mo' that shocked Australian viewers. His embodiment of that sleaze that women have run into at a bar is palpable. Outside of his home, his castle, John is bullied, considered weak and vulnerable. At home, John rapes kidnapped girls. Popular Australian actress Ashleigh Cummings shows a more considered range. This time we care about how her fate as her story unfolds. However, it is Emma Booth playing John's wife, and fellow rapist, Evelyn, that drives this film. Booth is a revelation. Following some lesser experience in Australian telly, audiences will come away asking where in the world Booth came from. She is frightening, vulnerable and complicit. Highly suggestible, and guilty as the day is long, Booth imbues Evelyn with agonising shame and desire.
Even as a first feature film, Young is a self-assured director. Young understands the audience's growing apprehension when they see the bloodied implements on the floor, not needing to show viewers violent rape and other horrors. Young knows that time you snuck out of your parents' house, that time you turned a seemingly friendly stranger down and wondered afterwards if you narrowly escaped a headline. The visual tone is quite arresting in its simplicity. Reminiscent of 80s suburban Australia are the square houses, cluttered mantelpieces, the VB beer bottles collecting on the dinky lino kitchen floor. Soft coloured tones underline the sweltering Christmas heat. The bogan (Australian for chav) clothing dresses and accurately depicts a recognisable neighbourhood.
That these crimes are recognisable across the world is frightening. The very human faces of this sickening human behaviour are made relatable without dulling their crimes. A haunting and heart stopping score complements the excellent locations. Ben Young is a director to look out for.
---
Hounds of Love is out on DVD & Blu-Ray now!